Gather round boys and girls… Brother Jack is back to give us a little primer on blues piano, from Cow Cow Davenport to Art Tatum. Save your questions for the end.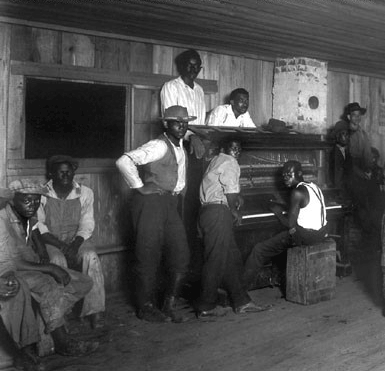 Blues started with the voice – call and response. The next step was to add a single vibrating string. There's a scene in the documentary It Might Get Loud where Jack White nails a single string to a piece of wood and starts playing blues on it. This bit of theater adds a little visual interest to an otherwise dull movie, but it makes a good point. All you need is one vibrating string and that's it… you can play the blues.  
Now let's talk about blues piano. That's 3 x 88 strings, but the idea is the same. You have to coax the blues out of it. You have to get those bent notes following the vocal, but without being able to bend the strings like you can on a guitar. But ingenuity prevails. There is a great tradition of blues piano.  
The piano was at the height of its popularity at the turn of the century, thanks in part to the ragtime craze, and the piano was bound to find its way into the blues. The earliest known piano blues was barrelhouse, sounding a bit like ragtime but staying within the 12-bar blues style. Barrelhouse was played in the juke joints, where there was always a beat-up piano that needed to be played. The general state of disrepair of these pianos contributed to the sound of barrelhouse and made it easier to hit those in-between notes characteristic of the blues. The roving musician who played this style hammered out the tunes for the drinkers and dancers and tried to be as loud and raucous as possible. One such musician was Cow Cow Davenport: Cow Cow Blues
One of the great blues musicians to sing and play piano in the barrelhouse style was Skip James, known mostly for his guitar playing and keening vocals. Gregg Allman covered his Devil Got My Woman blues on his latest album "Low Country Blues," and the accompaniment follows James' guitar style. But James also had a unique piano style. I discovered this when I heard him play at the Canterbury House in Ann Arbor in the late '60s. This was a time when a lot of the old blues players were being rediscovered and found themselves playing to appreciative young audiences. I had a chance to see James, and was amazed at what he could do with the piano. Here's one of my favorites, If You Haven't Any Hay, Get On Down The Road. Listen how effortlessly he gets a nice shuffle rhythm: If You Haven't Any Hay…
Every hard-core blues fan likes Skip James on guitar, but his piano style doesn't get the recognition it deserves. Here's another example: How Long Buck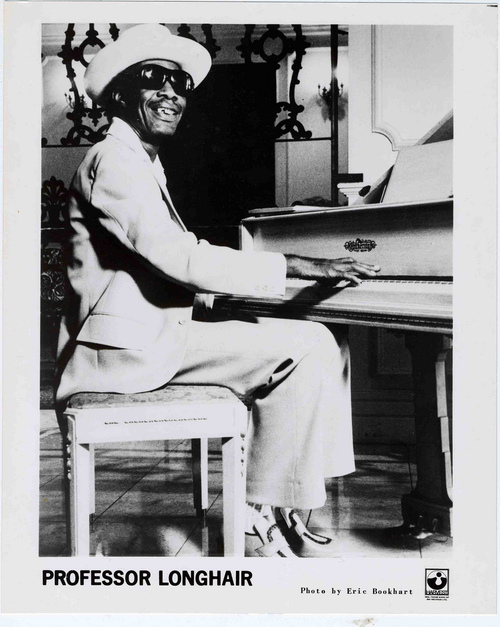 Speaking of How Long, here's a variation by Professor Longhair, How Long Has That Train Been Gone. You may be familiar with Fess because of his influence on New Orleans piano players such as Dr. John and James Booker. New Orleans was ground zero for blues piano players, and the style spawned some great variations in the Big Easy's musical breeding ground. This rollicking version is a classic brew of New Orleans rhythms (with Clarence "Gatemouth" Brown adding some nasty guitar): How Long Has That Train Been Gone
We've talked in RCR before about the great Otis Spann. His smooth style of the blues evolved in Chicago in the '40s. During that time acoustic piano was combined with the amplified sounds of electric guitar and harmonica. But Otis learned from the older players and could carry his own with just his voice and the piano: Jelly Roll Baker
A big part of blues piano is boogie woogie. The roots of it are heard in barrelhouse classics such as Cow Cow Blues, but the style didn't have a name until the recording of Pinetop's Boogie Woogie by Pinetop Smith in 1928. Here's another boogie woogie classic, Honky Tonk Train Blues by Meade "Lux" Lewis, recorded in 1927. Everyone who aspires to play boogie has to try their chops on this one with its dizzying syncopations and imitations of train sounds: Honky Tonk Train Blues
Blues piano traditionally relied on a very simple chord progression – three chords. During the development of modern jazz, trickier chord structures were invented to make the blues harmonically more interesting for soloists. Here's a blues improvisation by Mary Lou Williams from her 1977 album "Mama Pinned a Rose on Me": N.G. Blues
The greatest jazz improviser of all time was Art Tatum. He was famous for his inventive chord changes and dazzling fills that covered the full length of the keyboard. Here's Tatum's version of Aunt Hagar's Blues by W. C. Handy. As in Mary Lou Williams, the basic three chords are all there, but with many added notes and a whole lot of other chords too, and of course the sparkling runs up and down the keyboard: Aunt Hagar's Blues
Here's a little something for you boogie woogie freaks – two absolute masters: Albert Ammons (right) and Pete Johnson, who played on many Big Joe Turner classics. Lena Horne classes up the joint by just standing there. 
For those of you just starting to play blues piano, we recommend two books – both with transcriptions of piano solos and available on Amazon.com (below):
The Best of Blues Piano, by Todd Lowry
Barrelhouse and Boogie Piano, by Eric Kriss