Rolling Stone recently came up with another list of the "100 Greatest Guitarists of All Time." The new list was compiled by "a panel of top guitarists and other experts" – including RCR supporter Dan Auerbach of The Black Keys, Steve Cropper, Dave Davies of The Kinks, Eddie Van Halen, James Burton, Carlos Santana, rock writer Peter Guralnick, RS contributing editor Anthony DeCurtis, and many others. It follows up on a previous list assembled in 2003 by the magazine's senior writer, David Fricke.
Both lists share some obvious choices – including the consensus #1 pick, Jimi Hendrix. And you don't have to head too far down either list to find Eric Clapton, B.B. King, Jimmy Page, Duane Allman and Jeff Beck, to name a few perennial favorites. But once you get past the first 20 or so picks, things get far more debatable and, in a few cases, downright puzzling.
Now I've never placed much value on "best of" lists, the Grammys, CMA Awards, blues competitions, battles of the bands, etc. etc. To me, ranking artists seems like a fairly useless and highly subjective exercise (ranking athletes, no problem – stats don't lie). But if someone else is doing the ranking, I have every right to throw stones, don't I?
I have three major problems with the new list (which made me want to call Dan and bitch, but he probably deserves some credit for Clarence White showing up at #52). My concerns are as follows:
No Robert Quine (#80 on Fricke's list). My main problem here is that Lou Reed, not exactly an awe-inspiring stringbender (important in other respects, but not for his fretwork), shows up at #81. Keep in mind Reed, who had practically given up playing guitar, hired Rob back in '82 to play on his critically acclaimed album "The Blue Mask." And Rob goaded his boss into playing more guitar – with Reed quickly assuming a supporting role to his far-superior hired hand. After battling through two more albums and several tours with Reed, Rob went on to contribute to seminal recordings by Tom Waits ("Rain Dogs"), Marianne Faithfull ("Strange Weather") and Matthew Sweet ("Girlfriend"), among others. For further evidence of this injustice, check out our Quine posts here and here.
No Danny Gatton (#63 on Fricke's list). This is inexcusable. I've already made the case here that Gatton was simply the most amazing guitarist I've ever witnessed. Read it (and listen to the samples)… If you still don't mind that John Frusciante (ex-Red Hot Chili Peppers) is taking a spot away from Gatton, then click here to exit site.
No Clarence "Gatemouth" Brown (not on either list).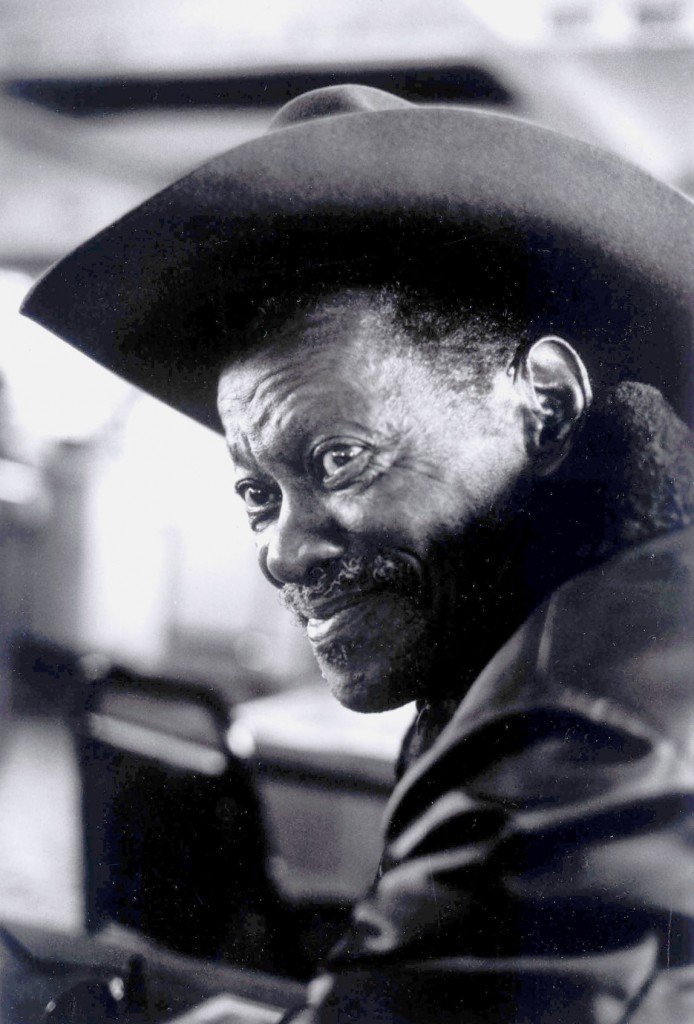 Unfortunately, this final indignity is just one of several heaped on Gatemouth both during and after his time on earth. Maybe it's time to set the record straight (yeah, that'll happen!) on one of the most effortlessly soulful and satisfying pickers of all time.
But first, another one of our "bio briefs" (this stuff is readily available elsewhere… no need for me to plagiarize): Born in Vinton, Louisiana – April 18, 1924… quickly moved to Orange, Texas…  learned to play fiddle from his multi-instrumentalist father… dubbed "Gatemouth" by a teacher, who claimed he had a voice like a gate (?)… played his first professional gigs as a drummer (with William H. Bimbo and His Brownskin Models, which belongs in the Band Name Hall of Fame)… switched to guitar when he was blown away by the great Texan T-Bone Walker in San Antonio… sat in with T-Bone's band at a club in Houston – an impromptu performance that earned him a record deal with Don Robey, owner of the Peacock label. According to Gatemouth, he improvised this next tune on the spot including the opening line: "My name is Gatemouth Brown, just got in your town. If you don't like my style, I will not hang around." Gatemouth Boogie
Well, Gatemouth hung around for the next 48 years, recording for a number of labels and taking his distinctive brand of what he liked to call "American Music" (he hated the blues moniker) around the world several times.
I was first exposed to Gatemouth's music during a trip to Austin in 1980, and I've been a fan ever since. In performance he was a revelation – playing fluid single-note runs that he'd punctuate with punchy chords that sounded like a full horn section (a style he reportedly landed on when he couldn't afford to tour with horns). And those long, talon-like fingers – not a pick in sight – that would barely move as he burned through hyperactive showstoppers like Pressure Cooker and Flippin' Out. He also played harmonica and was an exceptional fiddler, even contributing to the groundbreaking and Grammy-winning collaboration "Talking Timbuktu" with Ry Cooder and Ali Farka Toure: Ai Du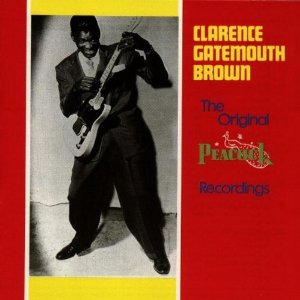 But Gatemouth's greatest legacy remains the red-hot sides he recorded for Don Robey from 1947 to 1960. Much like fellow guitar shredder Pee Wee Crayton, Gatemouth came up with his own take on the elegant stylings of his mentor T-Bone – tougher, more visceral and far closer to the nascent sound of rock 'n roll: Ain't That Dandy
Here's a rare blues fiddle workout he recorded in 1959 during one of his last sessions for Peacock: Just Before Dawn
The Peacock recordings alone should earn Gatemouth a spot on the "top 100" list. But his career took a number of interesting twists and turns over the next five decades. Those of you of a certain age might remember his legendary duels with country picker Roy Clark on the hit TV show "Hee Haw" (and the fine album "Makin' Music," an out-of-print treasure). And he asserted his dominance over a small army of contemporary blues wankers with several albums he recorded for the Rounder label in the '80s. Here's a blistering cover of an Albert Collins original from Gatemouth's 1981 Rounder debut and comeback of sorts, "Alright Again!" Frosty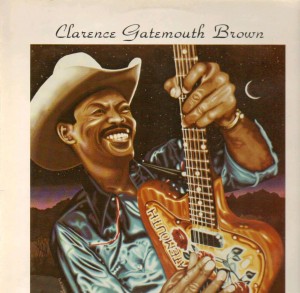 One of my favorite latter-day Gatemouth releases was a Texas swing-flavored session from 1975, "Blackjack." The album captures Gatemouth at his best, moving seamlessly from cajun fiddle stomps to fiery swing tunes that feature some mind-boggling interplay between Gate and pedal steel guitarist Don Buzard. I especially like the title cut, which borrows heavily from a soul-jazz classic by Kenny Burrell but ends up as pure American music, Gatemouth-style: Blackjack
A few of Gatemouth's final recordings lapse into some fairly listless and formulaic schtick (including one of those dreaded "guest artist" outings that somehow always involve Eric Clapton), but he'd long ago established his reputation as a true original and roots-music legend.
Gatemouth's final years were difficult. Although he fought lung cancer and heart disease (he smoked for many years), he ultimately was a casualty of Hurricane Katrina. His home in Slidell, Louisiana, was destroyed by the storm – and even though he beat a retreat to his brother's house in the familiar surroundings of Orange, Texas, he never recovered from the debacle.
"He was completely devastated," said Rick Cady, Brown's booking agent (AP story). "I'm sure he was heartbroken, both literally and figuratively. He evacuated successfully before the hurricane hit, but I'm sure it weighed heavily on his soul."
Gatemouth passed away in Orange on September 10, 2005, at the age of 81. At least he didn't have to live through another snubbing by the list-makers at Rolling Stone.
Gatemouth doin' the Okie Dokie Stomp – live on "The !!!! Beat" TV show (Dallas), 1966.
From the same show – Gatemouth and Freddie King doing a short version of Funky Mama…
Here's Gatemouth throwing down on fiddle, circa 1990… Nice footage of black cowboys too. I think Gate's prowess on fiddle – not to mention his eclecticism – actually worked against his legacy as a guitarist. Pisses people off when someone's that good on two instruments and can cover so many different styles.