With all the hoopla over the Rubber City's favorite sons winning three Grammys (and a fourth for Dan for Producer of the Year), we shouldn't overlook the fact that Lightnin' Hopkins won a Lifetime Achievement Grammy – or, as the Houston Press calls it, "the Recording Academy's way of saying 'oops.'" Here's a re-post in his honor.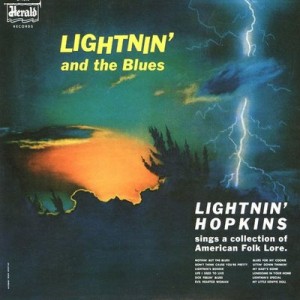 Are there fan clubs for dead blues guys? I should start one for Lightnin' Hopkins. I never get tired of the signature guitar riffs he played over and over again throughout his 50-some years as a working musician. Which is a good thing, because I have about 160 tunes by Lightnin' in my collection – still only about one-fifth of his total recorded output.
Lightnin' rarely strayed from his unique "yin-yang" approach to the blues. He was a country blues guitarist who learned his craft at the feet of fellow Texan Blind Lemon Jefferson, a true master of the form. Yet he spent much of his career on the streets of Houston, often using stream-of-consciousness lyrics to describe tough characters and situations that were familiar to many urban blacks. And whether he sang or spoke those lyrics, his laconic delivery never seemed to soften the menace of his razor-sharp guitar: Nothin' But The Blues
Rather than try to capture the full genius of Lightnin' Hopkins in one post, I decided to focus on a set of recordings from early 1954 that I'd argue are far more rockin' than anything Elvis later recorded at Sun Studios.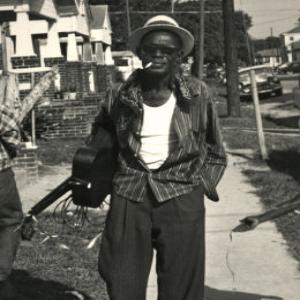 The sessions took place in Houston and were released on the New York-based Herald label. From a commercial standpoint, these singles didn't exactly fly off the shelves – although I'm sure they made their way onto quite a few jukeboxes in the South. Herald eventually compiled some of the songs on the 1959 album "Lightnin' and the Blues," which was aimed squarely at the burgeoning folk-blues movement (with this creaky sales pitch on the cover: "Lightnin' Hopkins sings a collection of American Folk Lore"). But that release didn't rock the charts either. In his liner notes to the 2001 CD release, Chris Smith theorizes that "white fans perhaps weren't ready for the uncompromising rawness of Hopkins' amplified juke joint blues."
But the Herald recordings had a huge impact on many a young guitar slinger – including Stevie Ray Vaughan, who seemed to have the blazing instrumental Hopkins' Sky Hop in mind when he recorded the Grammy-nominated Rude Mood on his first album, "Texas Flood." Apparently Lightnin' thought so too, claiming that the tune was a "take off" on his familiar style. On this first sample, I've put the two songs side-by-side for the sake of further argument: Hopkins' Sky Hop/Rude Mood
There's probably no need to start a fight… I'm sure if someone had pointed out the similarities to Stevie Ray, he would've pled guilty right away. And his badass brother Jimmie has no problem connecting the dots from Lightnin' to his own style of playing. The fact is, any modern-day Texas blues guitarist worth arguing about owes a huge debt to Lightnin' Hopkins and the red-hot tracks he laid down for Herald in '54.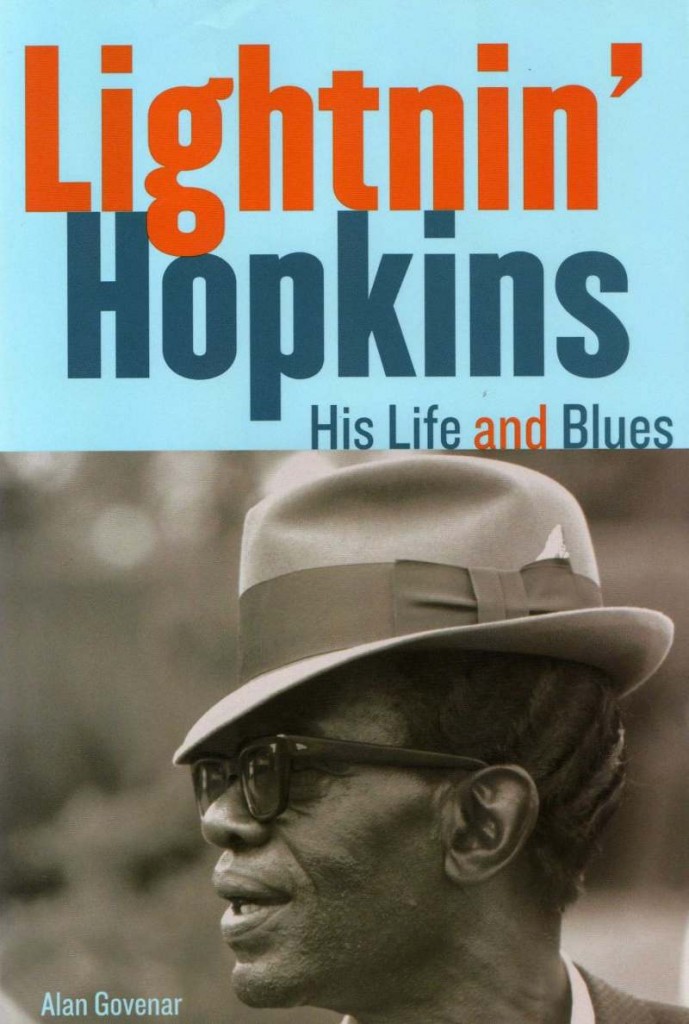 In his book "Lightnin' Hopkins: His Life and Blues," author Alan Govenar captures the significance of these recordings: "The twenty-six sides that Lightnin' issued on Herald took his music to a new level. While little is known of what actually transpired during these sessions, the results were phenomenal. Lightnin's amplified guitar had an explosiveness that had not been heard before, but note for note, Donald Cooks on bass and Ben Turner on drums – two session players in Houston – were completely in synch with his every lick." Here's more evidence that Lightnin' and his band came to play: My Baby's Gone
The band's undeniable chemistry is even more remarkable when you consider Lightnin's casual approach to chord changes, time signatures and other basic musical signposts. Like his contemporary John Lee Hooker, Lightnin' had a highly original and distinctive style of playing that often was best expressed in solo performances, where he would hang on to a chord or a groove for as long as he felt it. And obviously, this approach didn't always translate well to a full-band setting. Probably the best advice anyone could give one of his backing musicians was simply "hang on tight." As drummer Robert Murphy complained, "Some nights we'd jam, we'd go all night. And the next night, we'd be somewhere different, we'd play a little while, and he would just turn around and tell the people, 'Well, folks, I don't think me and this drummer are gonna make it.'" (From an essay by John Wheat: "Lightnin' Hopkins: Blues Bard of the Third Ward.")
Govenar rightfully notes that the Herald sessions "anticipated the rock explosion of 1955 and 1956." But Lightnin', who already was in his early 40s when he made those landmark recordings, couldn't compete with more youthful rock 'n rollers like Elvis and Little Richard. Regardless, I never understood why the Herald recordings, although clearly in the blues vein, aren't commonly recognized as vital artifacts of early rock. Listen to the big, booming rhythm on this next cut. Just once, I'd like to hear Lightnin' blasting from one of those ridiculously jacked-up car stereos… Moving On Out Boogie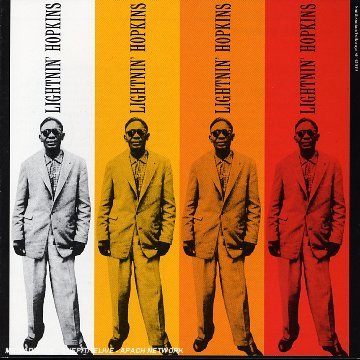 "Whatever he did in his day-to-day life, when he stepped into that studio, he was on fire," Govenar wrote. But Lightnin' walked away from the Herald sessions with little fanfare. He remained a regional blues favorite who still had to scrape and hustle for every dime he made. Only a few months later, Elvis would stroll into Sam Phillips' studio in Memphis and record the first of his groundbreaking singles for Sun Records. Of course we all know who became the household name. But Lightnin' was able to exact a little revenge in the early Sixties when he kick-started a whole new career on the folk-blues circuit while Elvis was doing everything he could to become completely irrelevant.
Over the years, Lightnin' became one of the most prolific recording artists of any genre, waxing some 1,000 tunes on countless labels. I don't pretend to be an expert on that massive discography. I just know what I like – which includes virtually everything I've picked up over the years with the name Lightnin' Hopkins on it. And especially the Herald sessions of 1954. Early Mornin' Boogie
Lightnin' on video – from the 1967 documentary "The Blues According to Lightnin' Hopkins," by Les Blank. With Billy Bizor on harmonica.
Here's another clip (short one) from the same documentary… Lightnin' playing at a party. Do those kids know how lucky they are?