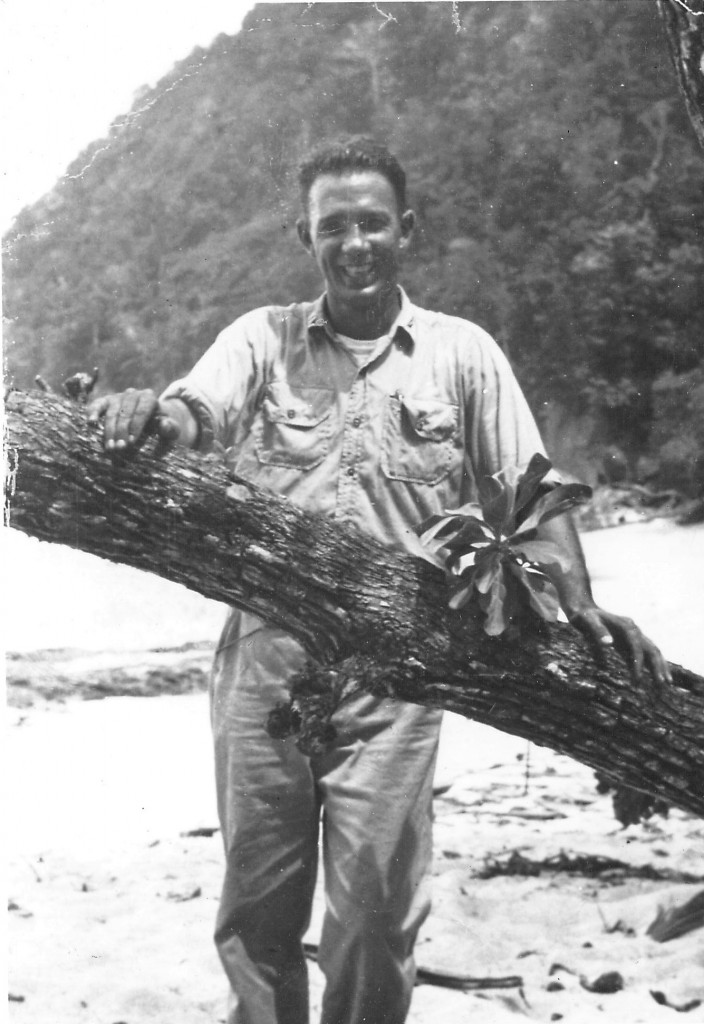 My dad John was a quiet and often very private man. In a different time, you'd describe him as genteel. Harvard Law grad, former Navy officer… He had the perfect temperament for a career in probate law (basically wills and last testaments).
Dad also had a playful side and enjoyed acting the fool in front of his young children. He loved puns, clever verse and virtually every song written by Gilbert & Sullivan – and he would use this obvious weakness to come up with absurd little monikers for most of his six kids, like Timmytay Shaygay Togglehookie or Keena Boobah Buncha Baby or James Henry Hooligan Holigan Dirty Muddy Water in the River. If that didn't work, he'd resort to slapstick.
Adolescence was another story altogether. He had little affinity for your typical sullen teenager. His own father passed away when dad was 15 – probably from the long-term effects of yellow fever that he contracted in Cuba during the Spanish-American War. Dad's newfound sense of responsibility for his mother and younger brother robbed him of his own adolescence, so he didn't have much use for the bad behavior of high school kids in the early Seventies. Dad was the provider; mom was the hammer.
Dad met his future wife in Washington D.C. where he worked as a staffer for a naval subcommittee led by "Dixiecrat" Congressman Carl Vinson (yes, the aircraft carrier guy). The Congressman's secretary was Jane Little, a sharp-looking firecracker from Milledgeville, GA. Vinson told Jane about the smart, handsome and somewhat shy young man from Akron, and also teased John with a few stray comments about his cute secretary. So if it weren't for one of the longest-serving Congressmen in U.S. history (50 years), Rubber City Review wouldn't exist. Blame him.
Things started to heat up in the Pacific, so dad was sent to New Guinea to serve as head watchman at a naval base on the north shore. We suspect the good Congressman must've sent a letter along with dad that spared him from combat, because his stay on the island was fairly uneventful. But he found a great way to stave off the boredom, and it appealed to his love of jazz and cocktail piano players. Apparently his commanding officer played piano for vibraphonist Red Norvo ("Mr. Swing"). Dad noticed that the base had scheduled a talent show in a few months, so he asked the officer to teach him how to play the old standard Lady Be Good. They worked together for days on the tune (the commander must've been bored too) and then dad unleashed it on his fellow officers, who gave him a standing ovation and asked for an encore. Dad threw out a few self-effacing comments – "this isn't all about me; let's give the others a chance" – to mask the fact that he didn't know any other songs.
After returning safely from the Pacific Theater, dad stopped by the idyllic family farm in Milledgeville just long enough to snatch up his wife and three-year-old son and move them to his mother's soot-stained home in Akron – conveniently located on a hill near the city's rubber factories. I don't think my oldest brother Jack ever forgave him, since he was abducted from four doting women on the farm. Dad eventually found a job working for his stern, humorless uncle at a local title company. And he went about the business of providing for his six kids (a seventh, Kathryn, died in the crib).
I have fond memories of growing up at our house on the "other" side of town. My father was kind to me but grew more remote as I entered my teens. He'd come home like clockwork every day around six, make himself an Old Fashioned (or two… above all, he was a man of moderation) and read the paper before we sat down for dinner. Afterward, he'd flip on the TV and usually watch PBS. Occasionally he'd come across a televangelist (maybe Akron's own Rex Humbard) and marvel at the steady stream of bullshit he was slinging. If my dad had any prejudice, it was against stupid people. He couldn't understand how anyone would fall for hellfire preachers or heavy-handed politicians.
Then again, dad was a devout Catholic, which seemed to fit well with his disciplined, reserved nature. By the late Sixties, the Latin Mass was becoming a thing of the past as well-scrubbed folkies began to strum their way into the church program. Dad and mom stuck with the Latin thing while the rest of us pretended to head off to the Folk Mass next door. We'd usually spend the hour listening to Top 40 hits on the car radio.
My dad probably would've been amused by these little acts of rebellion. He had bigger fish to fry with my older siblings, who argued against the Vietnam War and began questioning his political views, which could best be described as pragmatic and, at worst, regressive. Although my dad considered himself a Democrat, he'd occasionally rail against the Welfare State, and he supported Nixon's efforts to deport drug-using ideologues like John Lennon. This usually led to heated arguments around the dinner table – and even better excuses for dad to retreat to the Anglo-filled pleasures of his favorite PBS programs.
I felt more like collateral damage – an innocent bystander stuck in the aftermath of the Sixties. I was part of that cynical age group that equated hippies with gonzo bikers or good-old boys whacked out on painkillers. Our defining moment was when the President resigned in disgrace. And if we had any heroes, they were the two journalists who brought him to his knees – one conservative, the other liberal. Clearly, my older siblings had lost the culture war, and the Sixties I experienced through them became like a Chinese menu. I'll take a little of that weed… some psych rock… a cool T-shirt… and save those groovy slogans for someone who cares. All I need is love – and a decent job that doesn't make me want to rip off my own head.
Meanwhile, my dad's calm demeanor and sense of reason had already prevailed. Two years prior to Nixon's demise, he decided to ignore the overheated rhetoric of his old high school buddies and back one of the first candidates for Congress in Ohio who ran on an anti-war platform. The candidate won, using my dad's office (with its all-important Xerox machine) as his makeshift headquarters. The Congressman, John Seiberling, went on to spearhead the single most important contribution to Akron's quality of life, working with his Republican colleague Ralph Regula to create the Cuyahoga Valley National Park. Chance of that happening today? Zero.
As the Seventies dragged on, dad probably came to the conclusion that I "wouldn't amount to much," given my predilection to party (a lot) and play blues harp. It wasn't that he treated me with open contempt. But he didn't have much to do with me as I fumbled my way through college and held a succession of questionable jobs.
Years later, I was working in Columbus as a speechwriter for the Governor of Ohio (and playing in a blues-rock band on weekends). I was urged to take the job by an old friend from Akron, who was hired as the Governor's press secretary. I told him I wasn't a true believer like many of the Sixties-era idealists who worked on his staff. He said that was OK – none of them could write.
After it became clear that the Governor wouldn't fire me (that was the job of his Republican successor), my dad grudgingly came to terms with the fact that I might amount to something. I even helped break the ice by joining my dad for a few rounds of golf. He loved the slow rhythms of the game, not to mention the inch-deep relationships he developed with his fellow golfers. To him, the perfect conversation involved a lot of small talk around the latest gear and swing techniques.
In the winter of '86, I was at my usual after-work spot – a neighborhood pub on the city's near-north side – when the bartender handed me the phone. My brother-in-law told me I should think about driving up that night. Dad had been diagnosed with an aggressive form of leukemia and wasn't doing well in the hospital.
When I walked in his room, I saw fear on his face for the very first time. It shook me to the core. But as things got worse, he seemed to calm himself by saying a lot of Our Fathers and Hail Marys. Although dad was 76, he never retired, and I was stunned by all the legal documents his law partner brought for dad to sign on his deathbed. But that had a calming influence on him too.
My brother and I made plans to watch the Super Bowl with him that Sunday. He passed away in the morning, peacefully (I took a call from John Seiberling literally seconds after he died). As we prepared for his funeral on Monday, we were inundated with the breaking news about the explosion of the Space Shuttle Challenger, which became the main topic of conversation at visiting hours the following day. Not much talk about dad's quiet grace and dignity, which probably would've suited him just fine.
What song did I pick to honor dad? The only one he knew how to play, of course. Oh, Lady Be Good/Red Norvo