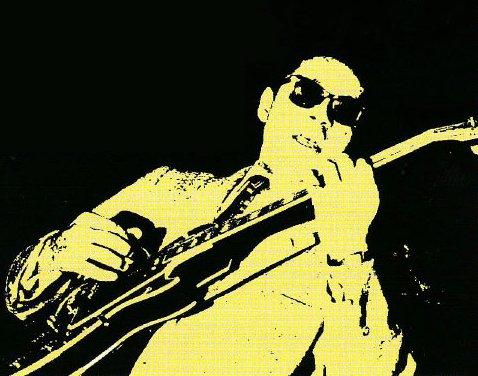 OK, at this point you're probably thinking, "Yet another post about an unsung and predictably deceased guitar hero? Why can't you just tell me what's going on with the Kardashians?"
In response to the second question, I'll direct you here. In defense of this post, I'll simply point out that when I dig into the remarkable backstories of characters like Mickey Baker (teenage hustler), Johnny Guitar Watson (pimp) and Memphis Minnie (prostitute), I'm often left wondering why Hollywood hasn't honored their memories with several award-winning biopics, readily available on Netflix. Then there's the music, of course… Shake It Up/Mickey Baker
Mickey "Guitar" Baker is arguably one of the world's first true rock 'n roll guitarists – with a slashing, razor-sharp sound that inspired many rockers who followed (including Akron native Robert Quine, who considered Baker one of the all-time greats). We'll begin his story with a few "holy shit" factoids about his formative years in Louisville KY, where he was born McHouston Baker in 1925:
His mom was a black 12-year-old girl whose mother ran a whorehouse… His father was reportedly a john – a piano-playing, Scots-Irish one at that… When Baker was 11, his mom ended up in prison, where he also landed after stealing about $3,000 worth of clothes… With no one to raise him, he spent three years in an orphanage (mostly learning how to play trumpet and trombone)… The rest of his teenage years were marked by a range of delinquent activities – pool hustling, drug dealing, rail jumping, small-time pimping… By the age of 15 he had made his way to NYC, where we eventually worked as a nightclub dish washer and had the good sense to buy his first guitar at a local pawn shop.
At first, Baker was under the spell of the bebopping Charlies – Parker and Christian – and took lessons from jazz guitarist Rector Bailey. As one of Baker's six wives pointed out in a New York Times obituary last year, "He said 'I stole everything I could from (Bailey) and made my honey from it.'" But the honey didn't start flowing until he abandoned jazz to play the stomping, blues-based R&B that became the main currency of popular Harlem clubs like The Apollo Theater back in the late '40s and early '50s. Here's a great example, featuring Baker's rough and ready guitar with blues singer Larry Dale: Stranger Blues
As you can tell, Baker borrowed freely from West Coast blues guitarists like T-Bone Walker and Pee Wee Crayton. But he wasn't as well-mannered as those two. He had a harder edge and some wild ideas that seemed to anticipate the birth of rock 'n roll in the mid-'50s. Maybe he was destined to ride that wave, having served as a go-to session guy for the House that Ruth (Brown) Built, Atlantic Records. Beginning in '53, he added his gritty fills and solos to songs by Brown, Big Joe Turner, LaVern Baker, Ray Charles and other mainstays at the powerhouse label.
He also developed a relationship with pioneering DJ Alan Freed, who later asked Baker to sign on as the house guitarist for his live rock 'n roll revues featuring Chuck Berry, Fats Domino and other early stars of the form. And he took on session work with a number of other labels, including Herald and RCA Victor.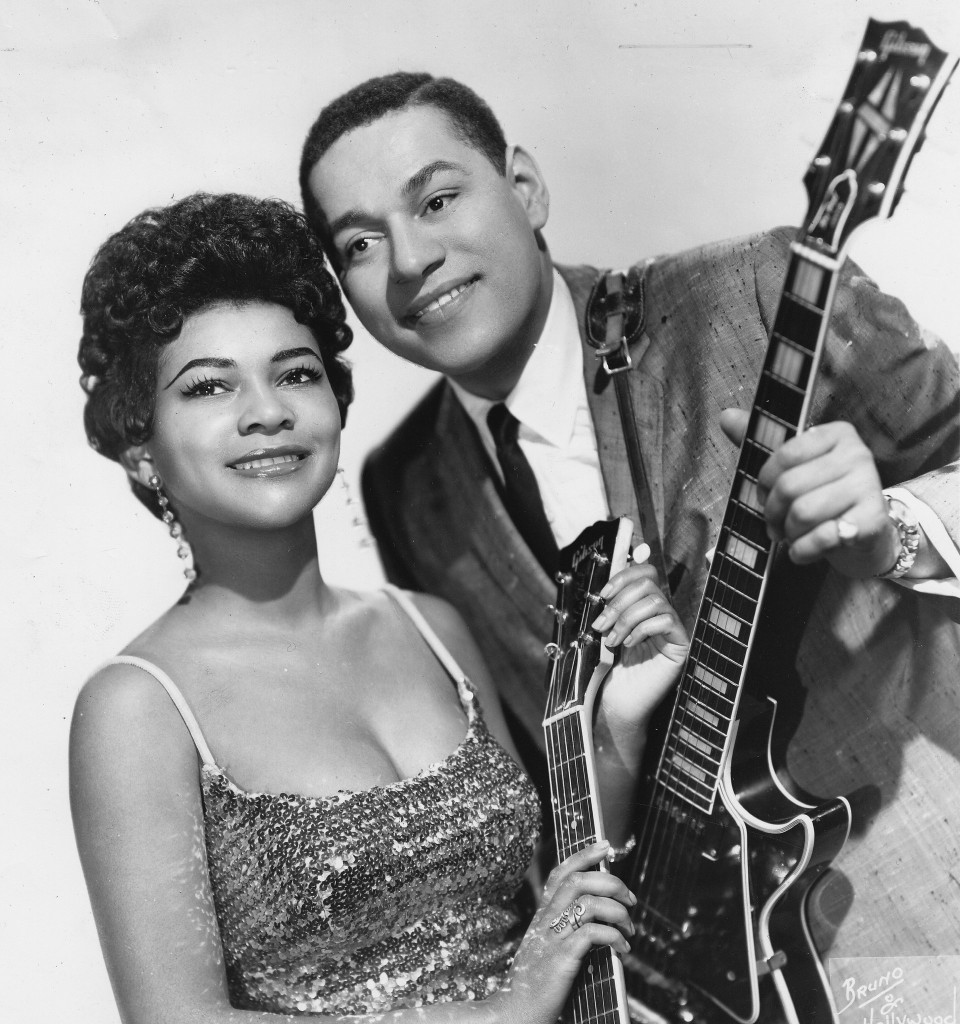 Fast forward to 1956 and one of the oddest events in Baker's life story – a hit single. Not just any hit single, but one of the weirdest songs to ever inhabit the upper reaches of the Billboard charts. At first blush, it sounds downright campy, with a spoken-word interlude (Mickey: "How do you call your lover boy? Sylvia: "Come here, lover boy!") that wouldn't sound out of place in one of Elvis' worst songs. But listen to the guitar… Those riffs are timeless, and deeply blue. Then consider the fact that Bo Diddley – who headlined a tour with Baker and his musical partner at the time, guitarist and singer Sylvia Robinson – played a key role in coming up with those riffs and putting the whole thing together. No wonder it's so much goddam fun. Love is Strange
Mickey & Sylvia modeled themselves after the white duo Les Paul and Mary Ford. And even though the latter two scored 16 top-10 hits in the early '50s, it's hard to find anything in their catalog that can hold its own against Love is Strange and this single, also released on the Groove label in 1956. No Good Lover
Baker stuck with Sylvia for three years, which must've seemed a lot longer since they apparently had no personal chemistry (odd, given that Baker tended to tie the knot with virtually every attractive woman who entered his orbit). "Mickey and Sylvia hated each other, but commercially they were a winning team," said roots-music writer James Marshall (otherwise known as The Hound).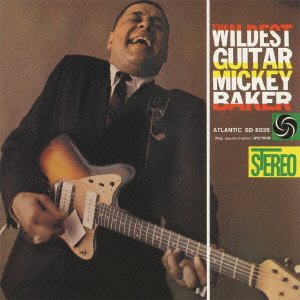 The dust had barely settled from that breakup when Baker entered the studio in '59 and recorded his first solo album, the all-instrumental The Wildest Guitar. I'd describe it as an inspired mix of blues, rock, lounge and exotica – a hugely entertaining record that should appear in any self-respecting collection except for the fact that it's been almost impossible to find (although you now can buy a digital copy on Amazon). Here's a taste: Baia
At this point, I should add that Baker supplemented his income with a series of guitar instruction books, including Mickey Baker's Complete Course in Jazz Guitar (published in 1955). If you were learning how to play guitar during the mid-'50s through the '70s, you probably cracked one of Baker's books. In fact, most of us were aware of Mickey Baker the guitar instructor long before we found out about his amazing rock, blues and R&B recordings.
Baker's life took an abrupt turn when he left the States for good in 1960 and moved to Paris. For the most part, he also left behind the genres I just listed to focus on jazz and classical music. He studied with classical composer Iannis Xenakis and even wrote a concerto for guitar and orchestra, The Blues Suite. But most of his recordings from the '60s on are jazz-based. "(Baker) returned to what he'd always badly wanted to do – play jazz. And he does, that is, play jazz badly," The Hound noted in 2009. "The greatest rock 'n roll guitar player in the world is one of the worst jazz guitar players in France." I can't rubber-stamp this opinion since I haven't heard Baker's jazz recordings, but I'll point out that similar statements by The Hound have been right on the mark.
Several years ago, photojournalist Jim Herrington spoke with Baker over tea and classical music at his home near Tolouse in southwestern France (you can find the following account of their conversation in this Jazz Times piece by Tom Reney). Herrington noted that Baker "loves to read, and it shows… his bookshelves are stacked with volumes about ancient Roman history, psychology, art and architecture. He's a forward-looking man, but I guess he's always been. He's happy enough that the music he made has excited people, but he seems more interested in talking about other kinds of history, hanging out with his wife (Marie) and generally relaxing and enjoying life."
I guess you can carve out a nice, modest existence in France from the royalties from Love is Strange, which appeared in the movies Deep Throat and Dirty Dancing (that would make for an interesting matinee) and, more recently, was sampled by the rapper Pitbull.
I'm glad Baker found peace during his five decades as an expatriate (he died at his home from heart and kidney failure on November 27, 2012). Still, it's hard to reconcile the man described by Herrington with the rock icon responsible for this quote: "(If it weren't) for the blues, we'd all be sitting around sipping tea and listening to chamber music."
Can't believe this one slipped my attention – a great clip of Baker, somewhere in the south of France, playing the blues with sax legend Coleman Hawkins. Obviously he wasn't just playing bad jazz during his time in Europe. Two absolute masters sharing a little common ground.
Let's do the twist with Mickey Baker's Spinnin' Rock Boogie!
A lot of first-rate Baker records to choose from below, but let me single out a couple. First, the Sammy Price collection that features Baker with the soulful sax of King Curtis – essential stuff from beginning to end. And second, the Champion Jack Dupree release on King Records, an overlooked gem that showcases some of Baker's finest blues playing. Both are available as digital downloads (and hard to find in other formats).