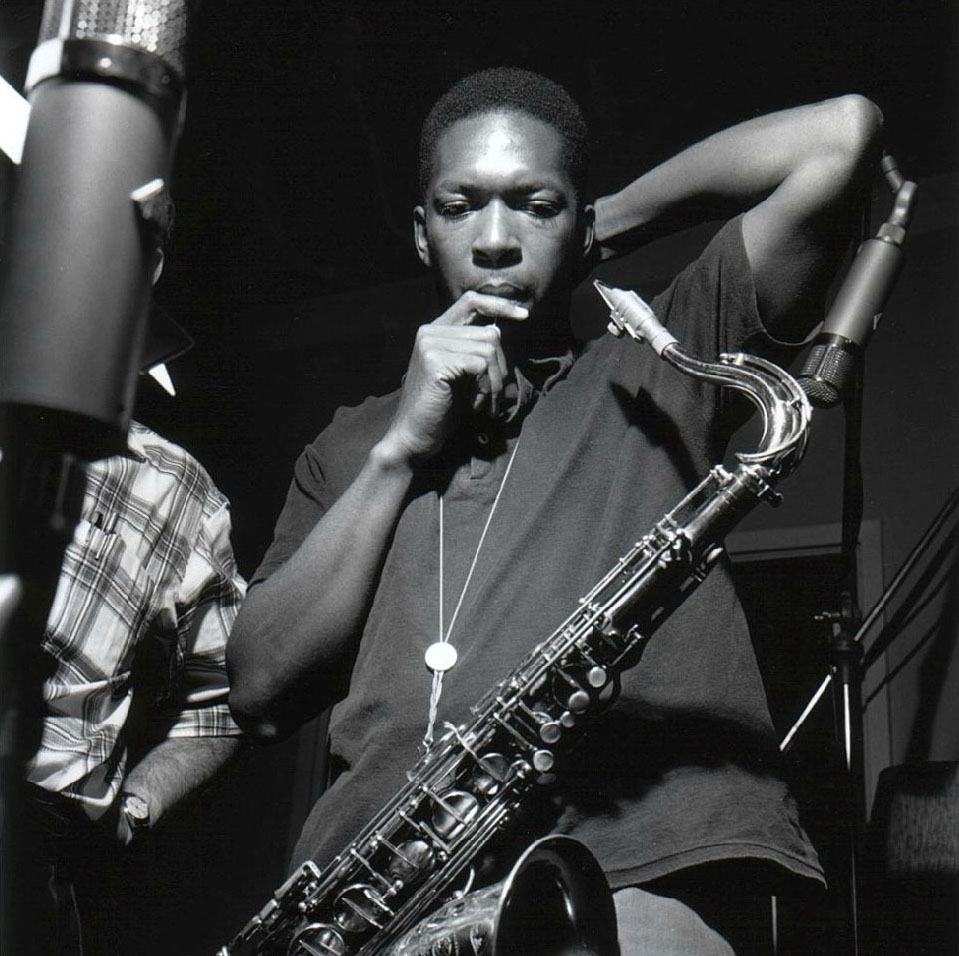 I don't think I can shed any new light on the legacy of John Coltrane. But I can answer the question, how did a white, middle-class kid from Akron – a 12-year veteran of parochial schooling – get hooked on his music?
It helped to grow up in a household where jazz was always present. Not the dark, searching, aggressive sound often associated with the Black Power movement in the Sixties. My dad liked well-mannered cocktail piano players such as Erroll Garner and the martini-dry sound of sax player Paul Desmond dueling with the classically trained Dave Brubeck. As I explained in this post, dad tended to shy away from jazz musicians with troubled backgrounds – which pretty much excluded everyone I later came to embrace, from Miles Davis to Sonny Rollins. But I'll thank him for opening my ears (and 'Trane for pinning them back).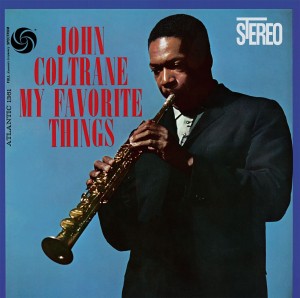 Like a lot of well-educated white kids, I discovered Coltrane in college. My first exposure came in the form of a two-record set compiling some of his best recordings for Atlantic Records. And, like many others before me, I fell under the spell of his nearly 14-minute masterwork My Favorite Things, which somehow managed to combine an innocent, sing-songy melody with an improvisational journey like none I'd heard before (and I misspent much of my youth listening to Jimi Hendrix and Duane Allman). Searing, soul-baring, consciousness-raising… I'd describe Coltrane's sound as one of the world's great mysteries, but let's leave open the possibility that it arrived from a distant galaxy – or, as Coltrane himself called it, "interstellar space." My Favorite Things
From there I traveled back, to Coltrane's earliest recordings as a solo artist for the Prestige label, and forward, to the spiritual, often atonal explorations for Impulse! that challenged his most ardent followers. I'll admit that some of the latter performances aren't for the weak of heart. But I gained a greater appreciation for them several years ago when I heard a program on NPR that placed them in a larger context – both in terms of Coltrane's evolution as an artist and the turbulent, racially charged times in which he lived. This studio recording from Live at Birdland is a meditation on the church bombing in 1963 that killed four girls in Alabama. Alabama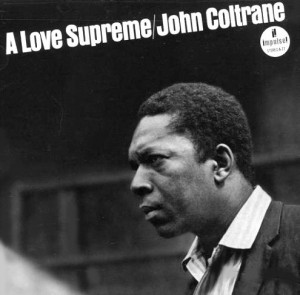 The fierce loyalty that Coltrane inspired in his sidemen is the stuff of legend. When asked by younger musicians how he played with so much intensity during his many years with Coltrane, drummer Elvin Jones replied, "You gotta be willing to die with the motherfucker." Throughout most of Coltrane's career, Jones was joined by the wonderfully inventive and rhythmic pianist McCoy Tyner. Bassist Jimmy Garrison played in what is often referred to as the Classic Quartet (1962-65) that recorded the landmark album A Love Supreme. Here's a taste of the album's first suite, the most deeply spiritual piece of music you'll ever hear on a multi-platinum record. Quartet-Acknowledgement (Part 1)
During the Prestige years (roughly 1957-58), Coltrane played mostly jazz standards, ranging from quiet ballads to full-throttle workouts with frenetic solos that jazz critic Ira Gitler famously described as "sheets of sound." I'm partial to the blues and ballads that Coltrane played with so much conviction, as well as this African-flavored number that anticipated his later work on Atlantic and Impulse! Bahia
In 1957, Coltrane took a side trip to Blue Note records to record the jazz classic Blue Train, featuring an all-star cast of Lee Morgan on trumpet, Curtis Fuller on trombone, Kenny Drew on piano, and Miles Davis' rhythm section – bassist Paul Chambers and drummer Philly Joe Jones. The brooding title song, widely recognized as a hard-bop masterpiece, remains a high point in the label's remarkable catalog. Blue Train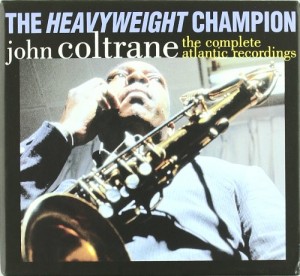 I've been living with the Atlantic recordings for so many years, it's hard to pick favorites. I'm just glad I traded in that two-record set for Rhino Records' essential seven-CD collection The Heavyweight Champion: The Complete Atlantic Recordings of John Coltrane. It turned me on to several outstanding cuts that didn't appear on the vinyl comp, including this ethereal wonder from the 1960 release Coltrane's Sound. Equinox
As I pointed out in compiling our Sunday morning playlist, this next song – named after Coltrane's first wife, Juanita Naima Grubb – seems to have the universal appeal of a simple prayer. The meditative ballad was recorded several times by Coltrane and has been widely covered over the years by artists ranging from Pharoah Sanders to Derek Trucks. Some of you might scoff at the idea of a St. John William Coltrane Church in San Francisco. Play this song in a sacred place and then get back to me. Naima
Could Coltrane play the blues? He grew up in North Carolina and cut his teeth playing with R&B honkers (and King Records artists) Eddie "Cleanhead" Vinson and Earl Bostic, so he was no stranger to southern roadhouses and juke joints. Heavyweight answers the question with a resounding "hell yes" in the form of several slow-boiling workouts that wouldn't sound out of place next to late-night blues ballads by T-Bone Walker or Bobby "Blue" Bland. Blues to Bechet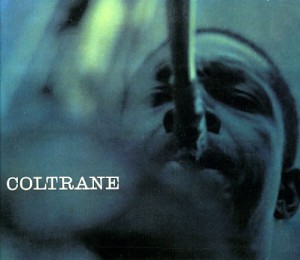 I also have virtually all of the songs recorded by the Classic Quartet for the Impulse! label. Here's a standout cut from Coltrane's self-titled 1962 release. According to a particularly studious music blogger I came across, Miles' Mode is probably the best-known jazz composition that employs the dodecaphonic, or twelve-tone, technique – a method devised by Austrian composer Arnold Schoenberg that ensures all 12 notes of the chromatic scale are given equal weight (roughly) in a piece of music. In jazz, the end result is often referred to as modal, a departure from the set chord changes of old show tunes that beboppers like Charlie Parker and Dizzy Gillespie routinely manhandled in the Forties. All of which, of course, is extraneous to the process of enjoying this song… Miles' Mode
We'll close with a gorgeous and contemplative number from 1964's Crescent. Think of it as the deep breath Coltrane took before heading off into interstellar space with the explosive bands of his final years (1965-67). No need to discuss theory here… just dive right in to the warm, healing water. Wise One
Coltrane's music still manages to startle and inspire me today. In fact, I'll go out on a limb by pointing out that songs like My Favorite Things and Naima make the vast majority of contemporary music sound completely sterile and irrelevant. Still, I keep searching for an artist or sound that can move me in the same way that Coltrane did when I first discovered him back in the Seventies. But I really don't mind falling short in that search, because I always have the real deal to soothe my soul.
The Classic Quartet, Live in 1964. Coltrane mastering the soprano sax on a song by Mongo Santamaria, Afro Blue. Excuse the white dude with the pipe (jazz critic Ralph Gleason – he produced the video).