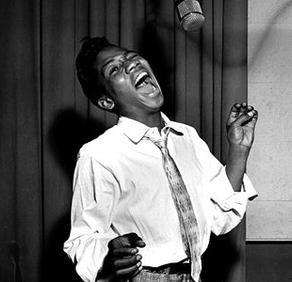 I just read a fascinating book about one of my favorite singers… Seems like a good excuse to showcase the music of Little Willie John while sharing a little love for the excellent bio Fever: A Fast Life, Mysterious Death and the Birth of Soul.
Author Susan Whitall – with help from John's son, Kevin – certainly benefited from a wealth of great material. John's story is filled with chance encounters that led to some legendary recordings, a modest level of fame and a fateful end. And Whitall pulls from a number of colorful sources to paint a vivid picture of John's 30 brief years on earth – from his childhood in Detroit to his final stint in Washington State Penitentiary following a manslaughter conviction.
Born in Cullendale, Arkansas, John moved with his family to Detroit when he was four. His father soon found work in a Dodge factory, which enabled him to move his wife and 10 children to the city's sprawling Cardboard Valley neighborhood, a cheap housing development on Detroit's northeast side.
Willie started out singing gospel with a few of his siblings – including sister Mable, who went on to record some classic soul in the Sixties for the Memphis-based Stax label (and shows up in the Oscar-winning documentary 20 Feet from Stardom). But it soon became clear that Willie could sing damn near anything – blues, show tunes, ballads, jazz, country, R&B, pop… And his stunning, otherworldly tenor could elevate the most hackneyed material, even hoary standards like Danny Boy. As fellow Rock and Roll Hall of Fame inductee Dion DiMucci (The Wanderer) pointed out, "Little Willie John did not know how to sing wrong, know what I mean?"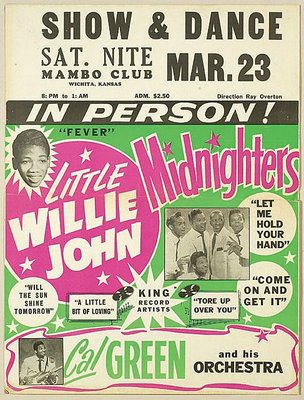 In a city filled with great singers – Jackie Wilson, Aretha Franklin, Hank Ballard, Levi Stubbs, etc. – the pint-sized teenager gained a fearsome reputation at the many talent shows that local theaters staged to bring in new customers. John first caught the attention of bandleader/A&R man Johnny Otis (Willie and the Hand Jive), who tried to convince King Records owner Syd Nathan to sign him. But Nathan decided to sign Ballard and his band the Midnighters instead.
Other opportunities came and went, including an offer to tour with the Count Basie Band (John's parents turned him down). Then John was "rediscovered" by theater manager Harry Balk, who watched him destroy the competition at another talent show. Balk's persistence paid off in '53 when John landed a date at United Sound (where John Lee Hooker cut Boogie Chillen) to record a Christmas single – Mommy What Happened to Our Christmas Tree? backed with Jingle Bells. Although the material was far from notable, the single was praised by nationally syndicated entertainment columnist Dorothy Kilgallen: "Sudden stardom seems to be in the cards for a 14 year-old Negro lad named Willie John" (from the Fever bio).
Some touring followed, including a brief stint as lead singer for Paul "Hucklebuck" Williams and band. Then John's career went into overdrive when he met Henry Glover, the man Nathan hired to run King's New York City operations (and one of the first African-American record company executives). John quickly found himself in the Beltone recording studio with New York's finest – including Mickey Baker on guitar, Champion Jack Dupree on piano and Willis "Gator Tail" Jackson on tenor sax – to record a song by Titus Turner that seemed to define R&B-fueled soul and swagger. At the time, the word "soul" wasn't even used to describe a song, much less a genre. But John's "impassioned, gospel-style vocals," as the Rock Hall put it, are often credited with giving birth to classic soul: All Around the World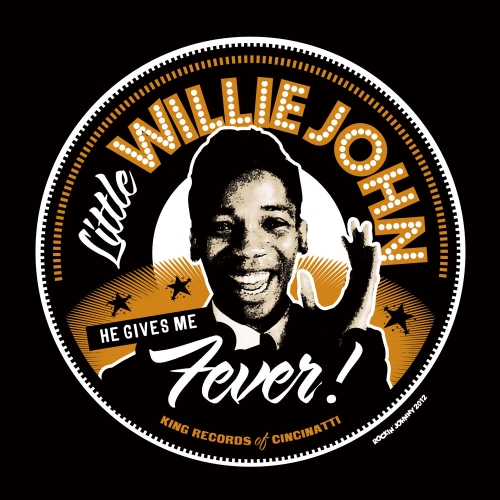 As good as that song is, it barely hinted at the heights John would reach in 1956 with a jazzy, sexy strut that dominated the nation's jukeboxes and reached #24 on the pop charts that year. As Whitall explains, the origins of Fever are clouded in mystery. Baker claims he came up with the song's signature guitar chord, but King's files show that its Cincinnati session crew recorded it, with Bill Jennings on guitar. Even the songwriting has been debated. Fever is often credited to Otis Blackwell and Eddie Cooley, but some believe John contributed… and singer Joe "Skinny Legs and All" Tex further muddied the waters by arguing that he sold the song for $300 to "pay his rent." Regardless, Fever is an undeniable masterpiece, covered by everyone from Peggy Lee and Elvis Presley to Madonna and The Cramps. Fever
John had a pretty good run at King over the next five years, scoring 17 R&B hits and denting the pop charts 13 times. Many of those hits reflect his best attempts to become the "Black Sinatra," complete with strings and sophisticated arrangements. In fact, his biggest-charting single, Sleep, might be his most forgettable, with an almost impenetrable layer of strings. He even stepped up his game with sleek, stylish threads and some silky dance moves on stage. And his live shows gained a lot more energy and excitement when he took control of Little Richard's New Orleans-based band, The Upsetters. Virtually no one was willing to follow him on stage – not even John's dynamic young protégé and King labelmate, James Brown.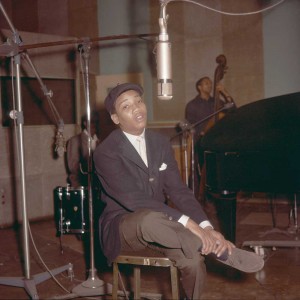 I have my favorites from the King years – mostly the bluesier songs that showcased the incredible depth and range of his voice. "There were guys with those high voices like Willie John, Jimmy Scott, Frankie Lymon, but Willie had his life in his voice," said producer and arranger H.B. Barnum, who oversaw John's final recordings. "When he sang the blues, he sang the blues, you had no doubt that he was living what he was singing." Here's a great example, with some blazing fretwork from an uncredited guitarist (Baker??): You Hurt Me
One of the hardest-rocking entries in the John catalog is this tune by R&B songwriter Rudy Toombs. The L.A.-based band The Blasters came up with a fine cover in '81, and you can hear Jack White manhandle it (or mangle it, depending on your tastes) on his latest album Blunderbuss. But I keep going back to John's original… As usual, he sings with great confidence and control, but you get the sense something really bad is about to happen. I'm Shakin'
John was game for just about anything during his time at King – and, for the most part, Nathan and his producers let him follow his own muse (although John initially didn't want to record Fever… he simply didn't like the song). But the next tune seems to come from a different time and place than John's preferred mix of blues-based R&B and heartfelt ballads. As Whitall rightfully points out, it's "a stunning, jazzy number that sounds as contemporary today as the day it was recorded, especially the alternate version… that features just Willie singing over Edwyn Conley's bassline." My Love Is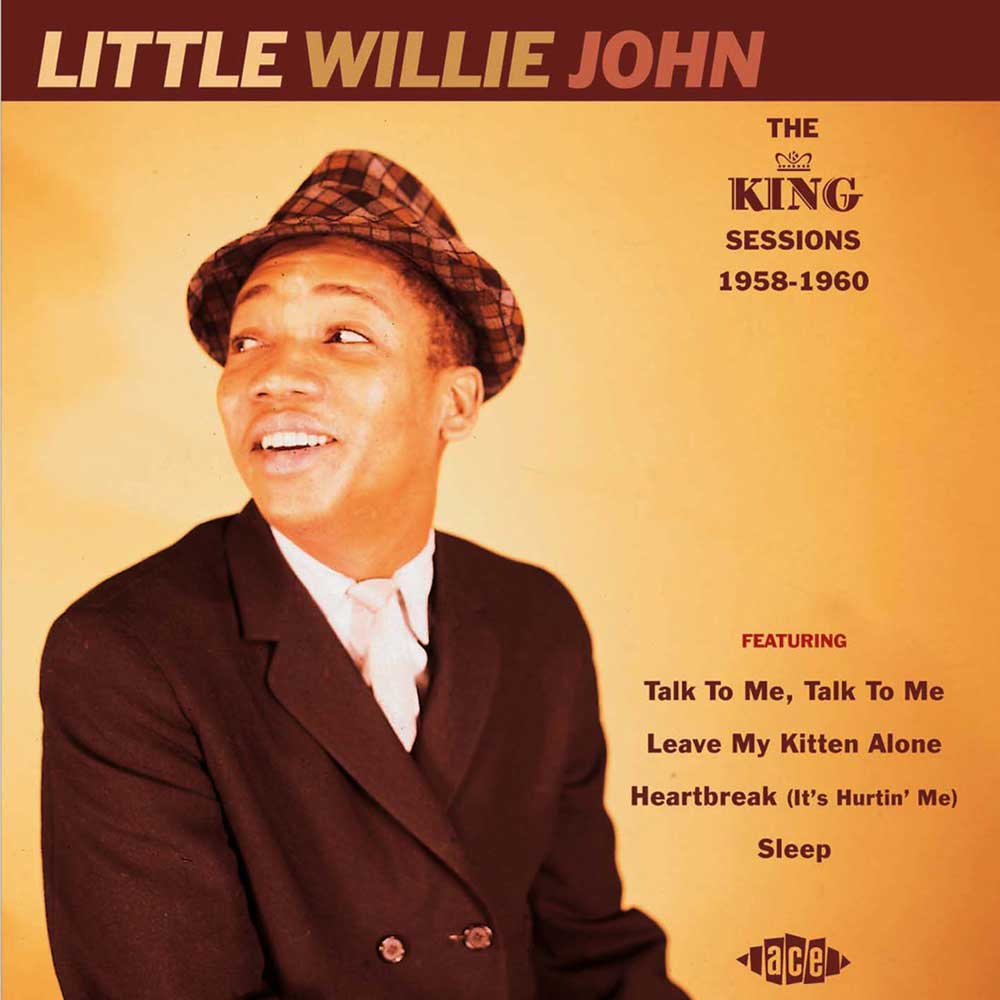 And here's a tune that inspired B.B. King and a young, Jewish guitar player from London named Peter Green, who turned it into one of Fleetwood Mac's most popular songs in the late Sixties: I Need Your Love So Bad
John was well-liked by virtually everyone who entered his wild orbit. He would relentlessly tease his competition, including Brown and Wilson, but apparently it was difficult to resist John's great warmth and generous spirit. He also was a complicated man who wrestled with some serious demons – a reckless bravado, a short temper, a weakness for booze and drugs… And those demons eventually did him in.
During a several-day bender in Seattle in late 1964, John ended up at a Sunday-afternoon house party with an assortment of local characters, including a tall, 200-pound ex-con named Kendall Roundtree. The two men immediately got into it when Roundtree took a seat that belonged to one of John's female companions. Roundtree then landed a punch that bloodied John's mouth, and although Willie's friends tried to calm him down, he came back with a steak knife and stabbed Roundtree in the chest. He died before the ambulance arrived.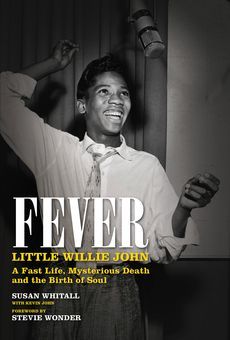 The three-day trial that followed was a spectacle, and John didn't help himself by hiring a feckless attorney. Even the prosecutor regretted the outcome – a sentence of 8 to 20 years for manslaughter. While out on bond during an appeal, John recorded some sessions for Capitol Records supervised by Barnum and David Axelrod. He was in great form throughout, but the recordings were shelved due to a squabble with King Records (they were released in 2008 as Nineteen Sixty Six: The David Axelrod and H.B. Barnum Recordings). And John entered the Washington State Penitentiary in July 1966, never to emerge. He died in prison on May 26, 1968. Was it the result of pneumonia, or a violent attack? Another unsolved mystery involving John.
Whitall's book offers a rich, detailed look at a forgotten time in American music, when the last wave of R&B stars – John, Hank Ballard, Jackie Wilson, Wynonie Harris, Big Joe Turner, Amos Milburn – faced off against far-more-popular rock 'n rollers… and, at least from a sales standpoint, mostly lost. By 1964, when the Beatles had arrived and Motown was on the rise, virtually all of them were long gone.
But Little Willie John's best recordings have fared much better over time than some of the dreck that knocked him off the charts. And if you have any love for some of the music featured here, I highly recommend Fever: Little Willie John – A Fast Life, Mysterious Death and the Birth of Soul.
The only known footage of Little Willie John is from the Sixties TV show Route 66… just a few precious seconds of LWJ nodding his head and playing percussion. But you probably can find countless clips from beach films starring Annette Funicello. This is why I do what I do.