Johnny "Guitar" Watson died on this date in 1996 – on stage no less. Here's a re-post in his honor.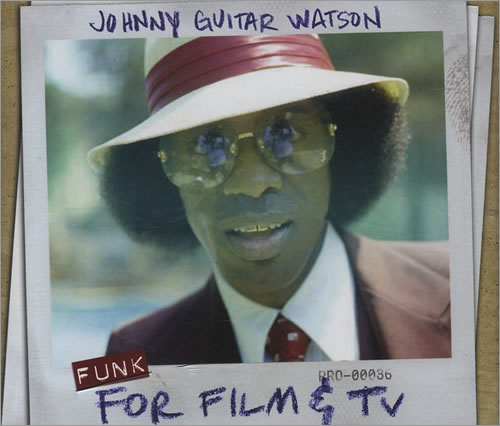 It's time to bring back the funk of Johnny "Guitar" Watson.
Why not? You can hear Seventies funk of every stripe on TV commercials and movie soundtracks by everyone from The Isley Brothers and Betty Wright to Curtis Mayfield and The Staple Singers. But sadly, Johnny G's funk gems remained mostly buried in the past. As the man himself famously asked in the title of his '79 album, what the hell is this?
And what about a Watson biopic? How can Hollywood green-light the Bobby Darin story Beyond the Sea and ignore one of the most storied musical careers of the 20th century? I mean, Watson died on stage in the middle of a guitar solo. How can you come up with a more dramatic ending than that?
Alright, I'm done ranting… Let's head over to RCR's "happy place" and dive right into some of these mind-blowing songs.
Now I'm no music scholar, but I'll go out on a limb by breaking down Watson's career into three distinct eras:
The Early Blues Years
The Transition Period
Superpimp Funkdaddy
Born in Houston in 1935, Watson started out on piano but eventually took his place in a long line of great blues guitar slingers with strong ties to Texas, including Blind Lemon Jefferson, Lightnin' Hopkins, T-Bone Walker, Clarence "Gatemouth" Brown, Albert Collins and Johnny Copeland. In terms of Watson's early blues years, I'll defer to our good friend The Hound, who did a fine job of rounding up the best of those recordings here.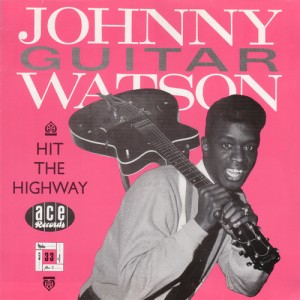 But I'll throw in a couple observations about the radioactive blues numbers that Watson waxed in Los Angeles (where he moved as a teenager) back in the mid '50s for the RPM label. First, if you don't have a collection of those songs – and several good ones are still available, including one you can order at the end of this post (Hot Just Like TNT) – then you need to right that wrong immediately. Here's a little taste of what you're missing… Too Tired Also, as Hound rightfully points out, Watson laid down some pretty fearsome tracks both before and after he recorded for RPM. And you'd be hard-pressed to find a better slow burner from the early '60s than Cuttin' In. At the risk of melting your laptop speakers, I'll pack as much as I can into this next sample… Cuttin' In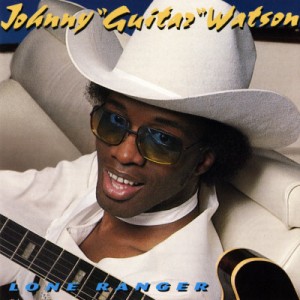 We'll place Watson's transition period (which we touched on here) in the early to mid '70s, when he recorded a couple albums for the Fantasy label, home of Creedence Clearwater Revival. Some view this era as Watson's sweet spot, when he found that perfect mix of blues and funk. I'm guessing that was the late blue-eyed soulman Robert Palmer's opinion – he covered this next song on his Some People Can Do What They Like album from '76. I like the slow grind of Palmer's version, but you can't top the sweet caress of Watson's guitar solo on the original: You've Got a Hard Head
Which brings us to Watson's most commercially successful period, when he came into is own as the ultimate pimp-hustler-gangster-soulman-funkdaddy. And, from what I've read, it wasn't necessarily a role that Watson played to give his act a little "street cred." As music writer Peter Guralnick puts it in his book Dream Boogie: The Triumph of Sam Cooke, Watson was "a star on the L.A. r&b scene whose talent was exceeded only by his panache and his ambivalence about whether he wanted to be a singer or a pimp." And Hollywood still hasn't picked up on this??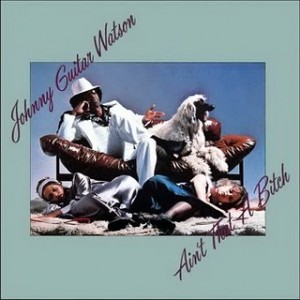 Watson's string of hit albums released on the DJM label in the '70s started with Ain't That a Bitch in '76. And at this point, you might be wondering how an unreconstructed blues nut such as me could appreciate these records, which were produced and orchestrated to within an inch of their lives with lush horns, precise yet funky rhythms and the occasional string section and synthesizer.
Well, I'll give you three good reasons (sorry, I'm stuck on triads… seeking help): 1. Watson's guitar – filled with Texas funk and L.A. fire no matter what he played; 2. Watson's voice – an amazingly soulful instrument that only got better with age; and 3. Watson's sense of humor – which makes virtually all of these tunes hugely entertaining (if a bit dated).
I probably should add that he had a great sense of drama as an arranger, which he used to create some fairly audacious openings to his best songs. Listen to how he kicks off A Real Mother for Ya with some powerful guitar riffs (cushioned by lush horns, of course): A Real Mother For Ya And that was simply an attempt to outdo the badass majesty of Bitch: Ain't That a Bitch
One of the great strengths of these recordings is the tension that his down-home blues guitar and voice creates against the uptown arrangements. When was the last time you heard a guitar like this on urban radio? Superman Lover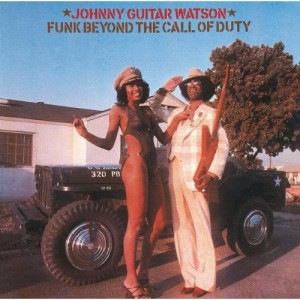 No question, his music captures a very distinct time and place in American pop culture, with references to Kareem Abdul-Jabbar's sky-hook, "makin' milk out of powder" and hoppin' on a "jet plane DC-10," which today is primarily used to move Fed-Ex packages and the unfortunate passengers of Ghana Airways. It was a time when you could still find blaxploitation films at the theater (not the megaplex) and you didn't have to explain the term "Detroit lean in a deuce and a quarter."
He was the original Gangster of Love – a cool character whose red-hot guitar inspired a long and diverse list of artists, including Steve Miller, Bobby Womack, Frank Zappa, Sly Stone and Jimmie and Stevie Ray Vaughan. And he eventually gained a strong following of rappers/hip-hoppers with his deft wordplay and larger-than-life personality.
Watson continued to record and perform throughout the '80s and into the '90s. One of his biggest champions during this period was Zappa, who even credited the song Three Hours Past Midnight for motivating him to pick up the guitar. "One of the things I admired about him was his tone, this wiry, kind of nasty, aggressive and penetrating tone, and another was the fact that the things that he would play would often come out as rhythmic outbursts over the constant beat of the accompaniment," Zappa said (from Zappa, a Biography, by Barry Miles). "It seemed to me that was the correct way to approach it, because it was like talking or singing over a background. There was a speech influence to the rhythm." Watson appeared on several of Zappa's later albums, although mainly as a vocalist.
As I referenced at the top of the post, Watson went out in a blaze of glory. He dropped dead on stage in Yokohama, Japan, right in the middle of one of his funky-ass guitar solos. Reportedly, his last words were "ain't that a bitch." And I ain't makin' that shit up.
Here's a couple of videos showing Johnny G in and his band in their prime, filmed live at a TV studio in Bremen, Germany in 1977. And they drive home the fact that Watson was one hell of a showman. Stick with Gangster of Love through the "calling all cars" schtick up front (if only to watch Watson ask his keyboard player what city they're in) – the song starts at about the three minute mark. And on Ta-Ta, look how far up the neck of his guitar he places his capo, a la fellow Texans Gatemouth Brown and Albert Collins. Awesome solo too. So much soul:
This next video is a surreal treat. As Frank Zappa was dying of cancer, his wife Gail would try to boost his spirits with Friday-night "salons" at his house – eclectic gatherings of musicians and artists who had little in common other than showing up in Zappa's rolodex. "He liked to introduce people from entirely different musical traditions and see what happened when they played together," Miles notes in Zappa. Filmed by the BBC in January '93, this one includes Zappa's long-time friend Watson as well as a trio of Tuvan throat singers, violinist L. Shankar and members of the Chieftains. Zappa died in December of that year.
One more piece of Watsonian lore… I found it interesting that, after guitarist Jimmie Vaughan parted ways with harp player/lead singer Kim Wilson and the Fabulous Thunderbirds in 1990, both men got in touch with their inner Watsons – Vaughan with a credible version of Motor Head Baby from his '98 album Out There, and Wilson with this number that gives guitarist Duke Robillard a little room to burn too… She Moves Me/Kim Wilson with Duke Robillard