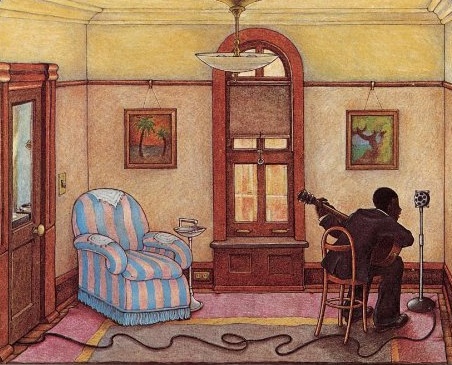 Don't get me wrong… I like to hear John Lee Hooker do the boogie over a driving beat or Allen Toussaint comp behind a funky New Orleans horn section or Thelonious Monk make seasoned jazz professionals sound like a group of toddlers with toy instruments (and I mean that as a compliment).
But every once in a while, I need to hear the artist straight up, no chaser.
Nothing lays bare a musician's strengths and weaknesses more than a solo performance. No overblown arrangements to hide behind. No programmed beats or pointless gospel choirs. Just the artist, usually with an instrument of choice – stepping out on the thinnest tightrope imaginable. And several foul-smelling carnies nearby to clean up the mess.
Going solo was far more common in the country blues tradition than it is today – partly because it was difficult for highly original artists like Charlie Patton, Robert Johnson, Skip James, Blind Lemon Jefferson and Son House to play with other musicians (not to mention travel together in the pre-WWII south). And the most distinctive country bluesman of all might have been zither-strumming evangelist Washington Phillips.
Here's a guy who "completists" like me can appreciate… Although the native Texan lived for 73 years, Phillips only recorded 18 songs (16 of which survived) during a two-year period – from 1927 to 1929. So if you pick up a copy of "I Am Born To Preach The Gospel," you've got the whole deal in one package. That's not to say we could've used more of these quirky originals that were built around Phillips' gospel sermons. This one was covered by guitarist Ry Cooder on his 1971 album "Into The Purple Valley." It's an ecumenical plea that seems especially appropriate today: Denomination Blues/Washington Phillips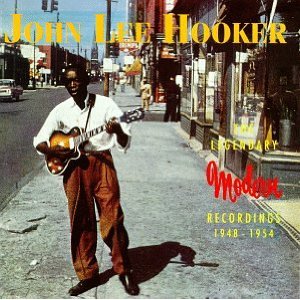 Bluesman John Lee Hooker might be my favorite solo performer. His earliest recordings have an almost trance-like intensity to them, with one foot in Africa and the other literally pounding out the future of amplified, urban blues. So many great performances to choose from (in a previous post, we included one that may have given birth to the power chord). For my money, Hooker's best solo stuff was recorded for the Modern label from 1948 to 1954. Occasionally, Eddie Kirkland (who passed away in February) filled in on second guitar. But Hooker did just fine by himself, thank you… Boogie Boogie/John Lee Hooker
They called Etta Baker the Queen of Southern Appalachian Piedmont-style guitarists (that's a mouthful). And she was a big influence on contemporary artists like Bonnie Raitt and Taj Mahal, who covered this next song on his album "Ooh So Good 'N' Blues." It's a traditional ballad that Baker rearranged into a brisk finger-pickin' workout that many guitarists have tried (including yours truly) and few have mastered. Safe to say that Baker's version remains the gold standard. Railroad Bill/Etta Baker
You don't often come across a recording session that features non-stop blowing on harmonica, from beginning to end. Thankfully, this one features blues harp virtuoso Big Walter Horton – with minimal backing by Robert Nighthawk on guitar (OK, I cheated a little here). In the early '50s, Big Walter recorded for Sam Phillips at Sun Studios in Memphis, where he cut the classic instrumental Easy. Then he moved to Chicago, where he collaborated with Muddy Waters, Jimmy Rogers (Walking By Myself: another classic), Eddie Taylor and Johnny Shines, among others. He even showed up in "The Blues Brothers" movie, playing with John Lee Hooker on Chicago's Maxwell Street. I have no information on when and where the sessions with Nighthawk were recorded (they were released on "An Offer You Can't Refuse" along with live cuts by The Paul Butterfield Blues Band) … Anyone? Walter's Boogie, This Is It/Big Walter Horton
When I think of the lonely, tortured jazz artist, I always go back to the iconic image of Sonny Rollins blowing his horn while strolling on the Williamsburg Bridge, where he reinvented his sound for the groundbreaking album "The Bridge." But I have an even better example of unadorned jazz sax. It's by one of Rollins' mentors, Coleman Hawkins. The Hawk's big, burly tone was there for virtually every major development in 20th Century jazz – big band, be bop, post-bop, avant garde (although he didn't have much affinity for the last category, he gamely went toe-to-toe with a very adventurous Rollins on the album "All The Things You Are"). Here's Hawk alone with his horn on a majestic tribute to another great artist: Picasso/Coleman Hawkins
Gypsy guitarist Django Reinhardt is best known for his stunning duels with violinist Stephane Grappelli, backed by a swinging bass and a couple of chunking rhythm guitars. It's also hard to ignore the fact that he played for the Nazis during the French Resistance (even those heartless bastards couldn't fathom screwing with an otherworldly talent like Django). But let's not head down that rabbit hole… I'd rather focus on one of his "improvisations" on solo guitar. These performances seem to place his amazing gift in a whole new light. Then again, I'd pay to hear him play scales. Improvisation/Django Reinhardt
Miles Davis practiced his black magic with hand-picked accomplices like John Coltrane, Cannonball Adderley, Bill Evans, Herbie Hancock, Wayne Shorter, Ron Carter, Tony Williams… essentially, the best musicians available. So there's really no such thing (that I'm aware of) as a truly solo performance by Miles. But once again, I'll cheat a little bit by singling out the stark opening to Generique – one of 10 compositions by Miles on the soundtrack to the 1958 Louis Malle film "Ascenseur Pour L'Echafaud (Lift to the Scaffold)." It's an achingly beautiful sound that transcends both the man and his instrument… Proof of a higher force: Generique/Miles Davis
A few posts back, we featured Dr. John's legendary solo sessions on piano. Now it's Allen Toussaint's turn. His name crops up quite a bit in this blog – both as a performer and producer. And when you consider all of the brilliant arrangements he's done for artists ranging from Lee Dorsey to The Band, it's easy to forget the guy can captivate an audience with just a piano and a few basic ideas. Here's a solo performance from "Our New Orleans," a compilation released in 2005 that also served as a benefit for Katrina relief efforts. It's a minor-key version of a Crescent City classic that Dr. John also covered in his solo sessions: Tipitina and Me/Allen Toussaint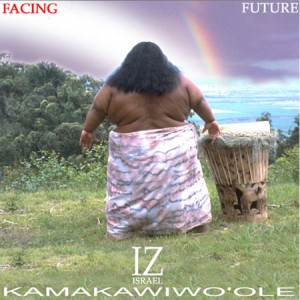 When my oldest daughter was married in 2008, everything about the experience tested my natural cynicism. I get a little twitchy in churches, but that feeling went away when I walked Meghan down the aisle. I like to critique the sermon, but was too busy admiring the sight of my family and friends in one place. Tuxedos usually give me a rash, but mine felt pretty damn good as I posed for pictures with my wife and the new couple. Of course I started to revert back to wiseass mode at the reception as the drinks flowed and chops were being busted. Then the DJ played this next song, and I started crying like a baby. It's by a 700-pound man who played a tiny ukulele – and despite that jarring image, it somehow reminds me of everything I love about being a dad. This one goes out to Meghan, David and everyone who joined us for the Big Day in Cincinnati, and to the memory of Israel Kamakawiwo'ole, who passed away at the young age of 38. R.I.P., IZ. Over the Rainbow-What a Wonderful World/Israel "IZ" Kamakawiwo'ole
The one-man Son of Dave band… Here's a guy I found out about through our good friend Rick Saunders at Deep Blues (and brother James). Not only is it a mind-blowing solo performance, it also answers the question posed in our previous post: Has blues music evolved since Guitar Junior taught us how to crawl? If only Doctor Ross had a digital looping delay:
Is there anything scarier than singing a capella? Probably images of the coal miners Hazel Dickens fought for as a singer and activist since the 1960s, when she left her 10 brothers and sisters in West Virginia to join the bluegrass and folk music scene in the D.C. area. Clearly, her heart and soul remained in Appalachia. Dickens passed away in April at the age of 75. R.I.P., Hazel.
In honor of Zimmy's 70th b-day – from the Rolling Thunder Revue tour. With a guitar, harmonica and a pen, Dylan forever changed the art of performing solo.