How does one discuss the Akron music scene without pissing off hordes of people?
For long stretches of time, there really wasn't much of a scene at all (unless you were willing to drive 20 miles to Kent to see Joe Walsh or The Numbers Band). Then things kind of exploded in the mid- to late-Seventies with the rise of Devo and a very active punk scene in Akron that started at a little dive on East Market Street called The Crypt. The owner of said dive had grown weary of catering to hard-drinking rubber workers, so he simply handed the bar over to members of Devo and two other bands – The Rubber City Rebels and The Bizarros (with the understanding that they'd cover the rent and utilities). So basically, the so-called "Akron Sound" rose from the ashes of the city's dying factories.
At this point, I should admit that trying to wrap any identifiable "sound" around the Rubber City is a fairly useless exercise. Granted, Devo came up with the perfect soundtrack and imagery for Akron's post-industrial landscape. But we probably should take their unique genius out of the equation, because no other local band approached that level of homegrown inspiration. Now consider Chrissie Hynde, The Black Keys, Joseph Arthur, Lux Interior, The Rubber City Rebels, Tin Huey, Robert Quine… artists with a shared aesthetic, maybe – a determination to upend tired rock cliches. But no real common ground, musically speaking – at least that I can hear.
Back to the backstory… The scene that began at The Crypt eventually moved to a downtown club called The Bank (in a former bank, of course – complete with massive vault). By 1980, the UK's Melody Maker magazine had crowned Akron "the New Liverpool," and four local bands had been signed to major labels – Devo, Tin Huey, The Rubber City Rebels and The Bizarros. Only Devo went on to record follow-up albums and achieve worldwide fame and notoriety. And by the mid-Eighties, the local scene had fizzled out, mostly under the weight of its own hype.
But that's just part of the story. Although other local bands such as Chi-Pig, Hammer Damage and Unit 5 never got signed, they certainly made Akron more livable in the early Eighties – drawing big crowds to The Bank when there were few good reasons to come downtown. And they did it with highly original, punk-influenced songs that were embraced by rock fans looking for a little salvation in the heart of the Rust Belt. The original version of this song might not have received much airplay (this is a live recording from a 2004 Hammer Damage reunion), but it's better than a lot of the stuff I heard on the radio at the time: Laugh/Hammer Damage
Drummer Mike Hammer witnessed the rise and fall of the Akron scene from a front-row seat. He joined The Rubber City Rebels in 1977, then they moved to L.A. to land a record deal (the Rebels eventually released their one and only major-label album in 1980, without Mike). Then he moved back to Akron to form the hard-rocking Hammer Damage, which packed clubs throughout northeast Ohio and beyond (and opened for The B-52s and Public Image Ltd. at the Cleveland Agora). After the Akron scene imploded, Mike relocated to Atlanta in 1991, where he has played with some of the city's most popular swing and rockabilly bands.
But Mike and Hammer Damage will try to bring back the glory days of Akron rock with reunion shows at Jilly's Music Room on Aug. 8-9. Seemed like a good opportunity to engage in a little conversation with Hammer about a time when Akron's music scene was gaining a lot of critical notice (while everything else in the city was falling apart).
T.Q.: I left Akron in 1974 and, outside of a few summers spent here during college and a brief stint when I was broke, lived elsewhere until '91. You left town in '91 and haven't looked back since. Between the two of us, I think we offer a fairly good perspective on the local music scene! You joined the Rubber City Rebels back in '77… How did that come about?
M.H.: I was into jazz and progressive rock at the time. I was trying to be the next Buddy Rich, Billy Cobham or Phil Collins and play with someone like Jeff Beck. The Rebels' original drummer, Stix Pelton, had left the band and they were auditioning for a replacement. I got a call from (guitarist) Buzz Clic… He asked me if I was interested. I was really into the concept of how an original band can become a huge success, along the lines of Led Zeppelin or Grand Funk Railroad. Actually, my conversation with Buzz ended in an argument. He was with (singer) Rod Firestone and they were asking me about different punk bands, like The Sex Pistols. I wasn't really aware of those bands… didn't see that whole scene coming. I could hear Firestone say "fuck this guy." But Buzz still invited me to a rehearsal and they apparently liked what they heard, because they gave me the gig. So I pared my kit back to four pieces, chopped off my hair and found myself opening for The Dead Boys at CBGB in New York City. It didn't take long for me to see where this was going. It took away from my chops, but I definitely appreciated the energy behind the music.
New York City went really, really well… It was fun being part of that scene and hanging with The Dead Boys and Pere Ubu, but the city was tough and expensive, and a couple of the other guys wanted to go to California for the nicer weather. So we headed off to L.A., played 11 gigs and got signed to Sire Records when the label's founder, Seymour Stein, saw us play in a local club. Pissed off a bunch of shitty local bands… An article even made reference to L.A. bands taking some time to live in Akron for some credibility. But we never got into a studio and things went south after that, so (Rebels bassist) Donny Damage and I went back to Akron.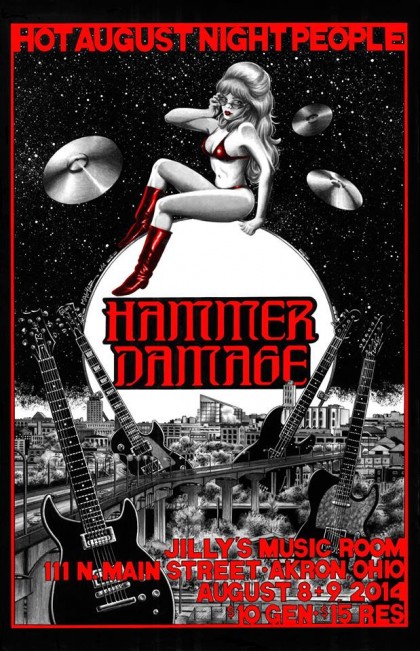 So how did you end up putting together Hammer Damage?
Donny and I wanted to do our own project, and we eventually met (guitarist) George Cabaniss and (bassist) Scott Winkler. Donny switched to guitar and became our lead singer, and we booked a few gigs at JBs in Kent as The Rubber City Rebels. But we soon renamed ourselves Hammer Damage and started working on our own material. Meanwhile, the Rebels were "discovered" by Doug Fieger of The Knack and recorded an album in New York for Capitol Records.
If anything, Hammer Damage had a bigger local following than The Rubber City Rebels. What were you after with that band?
I don't know if we consciously sat around and discussed being this or that. We were into bands like The Clash, The Ramones, Elvis Costello… George was a great guitarist and wrote shit with a high energy level (the band added another ace shredder, Kal Mullens, when Cabaniss left to play with The Dead Boys). Everyone in the band wrote songs, but nobody would bring their stuff and say "you do this and you do that." It was more like "here's my song – what ya got for it?" We had a lot going on and a lot of influences, but it eventually became just us. Original rock by Hammer Damage. Noise Pollution
I stopped by The Bank a few times during visits to Akron. It definitely had an "anything goes," almost anarchic vibe to it. But the acoustics were horrible, even with the parachute hanging down from the ceiling. Must've been a tough gig for a drummer to play…
Yeah, it seemed like my bass drum would ring for five minutes after I hit it. That whole scene actually started with our manager, Dale Machak. The owner, Howard Allison, reminded me of Paul Newman's character in the movie The Verdict. He was one of those stereotypical, hard-drinking, ambulance-chasing attorneys… He would sit at the bar and drink his Jellybean cocktails with a straw. I think he represented the Kent 25 at one point (25 students and faculty members indicted on criminal charges following the 1970 shootings). He was a Rodney Dangerfield type of guy, trying to get a little respect booking jazz. We'd been playing a lot in Kent, but Dale wanted to find a place for us to play in Akron. At the time, The Ramones were getting bigger and The Sex Pistols were huge, so Dale convinced Howard to give us a shot.
We had a big following at JBs and brought a lot of those people to Akron for our first few gigs at The Bank. After our first show, Howard complained that our fans drank all his beer… Same after the next gig, "Your fans drank all my beer again." Our crowd didn't drink hard liquor like the jazz fans, but they drank a shit-pile of beer.
Soon Howard started booking other local rock bands, like Chi-Pig, The Action, Unit 5 and, from Cleveland, The Wild Giraffes and The Generators. But it really didn't matter who was playing on a Friday or Saturday night… People came there to be part of the scene.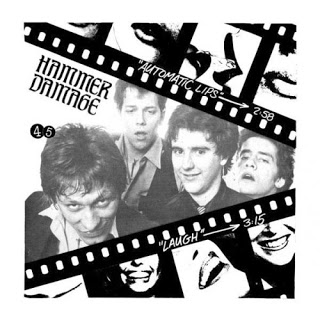 So Akron gets labeled the "New Liverpool"… everyone swoops down on us – including Village Voice critic Robert Christgau… deals are made as labels search for the next Devo… clubs in London start holding "Akron nights"… and then it all falls apart, almost as quickly as it came together. What the hell happened?
Well, there were a lot of promising bands, and a few got major-label deals, like Tin Huey and The Waitresses. But record sales weren't much, and The Bank eventually ran its course. If anything, the scene had gotten too big, and Howard's health wasn't great so he couldn't sustain it. You only could maintain that momentum for so long without the next wave of talent and the next hot club, and nothing replaced The Bank. Everything just fizzled out over time.
What prompted the move to Atlanta?
After Hammer Damage fell apart in '84, I decided to shift gears musically to a more chops-oriented project with a couple guys in New York City. But that only got to a certain level, so I moved back to Akron to form Ten Zen Men with Joe (Joseph) Arthur on bass. A friend of mine in the lighting business started doing production for southern rock bands – .38 Special, Molly Hatchet, The Outlaws – and convinced us to move to Atlanta. We thought we had an opportunity with Gold Dust Records, which just signed the Rossington-Collins Band, but we didn't end up getting a deal. I think we were just on the receiving end of a lot of cocaine-infused enthusiasm!
Things turned out pretty well for Joe. He made a demo tape and handed it out to a lot of people while he was working at a bar in Little Five Points. He came home from work one night, turned on the phone machine and heard a message from Peter Gabriel: "I heard your tape, really like it… Would like to do a project with you." Joe couldn't believe it. (Arthur recently released his 11th album, Lou, a tribute to Lou Reed, on the Vanguard label.)
After Ten Zen Men, I joined a swing band called the Lost Continentals. We built a strong following in Atlanta, recorded an album for an indie label (Landslide) and toured with the Brian Setzer Orchestra. Lately I've become the "go-to" rockabilly/swing drummer in town, sitting in with Wanda Jackson and playing with Cletus and the City Cousins and The Western Sizzlers (with guitarist Rick Richards of The Georgia Satellites). And I still work as a trim carpenter.
What can we expect at a Hammer Damage reunion show?
Close your eyes and you'll think it's 1979 all over again! We may not look like kids, but we still bring it.
Hammer Damage Reunion Show: Jilly's Music Room in Akron, Aug. 8-9. Poster above by Rick Magyar. 
Live at The Lime Spider (2004 reunion):