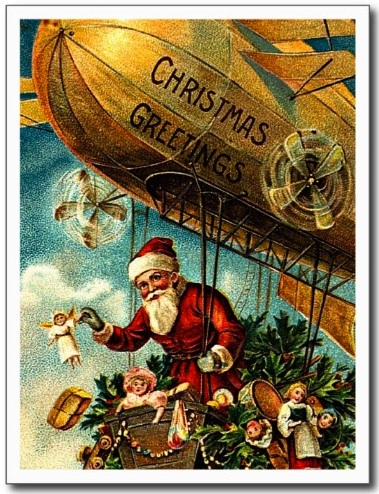 Welcome to RCR's 5th Annual Holiday Song Roundup (if you need time to review, here are links to one, two, three and four).
Not sure if I can put a finger on the prevailing mood this season. I've been laid up at home for more than a week (knee surgery… definitely on the mend), so I've had plenty of time to reflect. But I've decided to mostly waste it by exploring the many features of my new Apple TV, which I highly recommend to anyone starved for entertainment, wherever your brow lies. So if you're looking for insightful commentary on the issues of the day, don't start here… I have no idea what's going on past the end of my driveway.
This morning I decided to give my new toy a little rest, which left me with three options: 1) doze and drool (daddy needs his Percocet), 2) keep staring at a postcard-perfect snowfall outside my window, or 3) dive right in to our playlist.
What can I say? I'm a slave to our annual holiday tradition. As I mentioned in my post on the lovable lunatic Evan Johns, I still have my red vinyl copy of his Christmas album, Please Mr. Santa Claus. It's mostly a cheap excuse to package a few of his typically skewed instrumentals in an EP format – which is a good thing, because I wouldn't want to hear Evan croon his way through the usual holiday fare. But one cut in particular never fails to warm my chestnuts. It features some sweet fiddling by the late Champ Hood, who also played guitar (and other stringed instruments) with Austin-based Uncle Walt's Band and Lyle Lovett's Large Band. Little Cajun Drummer Boy
Let's take the basic premise we used in this post and give it a little twist: You've got a rockin' bar band (preferably with horns)… You barely have enough originals to get you through half a set… The cranky bar manager wants you to play a few Christmas covers during the holiday season… but you don't want to kill the mood with a lame-ass version of Jingle Bell Rock. My grateful bandmates embraced this tune like it was wrapped in $100 bills. I stole it from a great collection of jump blues songs on the Specialty label by Roy Milton & His Solid Senders, with the wonderful Camille Howard on piano. Christmas Time Blues
"Can't you hear them bells ringin', ringin'… Joy to all who hear them singin'; When it's snowin', I'll be goin' back to my country home." I could never figure out why our next song isn't more of a holiday standard. I guess it is in country and bluegrass circles. But it never made the cut on one of Ray Coniff's bloated Christmas productions (would've enjoyed hearing his singers caress "them bells" though). It was written by Benjamin F. "Tex" Logan, who seemed destined to write a song with universal appeal. He played fiddle for bluegrass pioneer Bill Monroe, but also studied at MIT and eventually earned a PhD in electrical engineering with his thesis "Properties of High-Pass Signals." Now there's a guy with a flexible brow. Christmas Time's A-Coming
I like my Frank and Ella during the holidays. But I also like something with a little more Texas roadhouse grit. That's when I slip this little number on the phonograph and pour myself a shot of the good stuff (hold the Percocet). Lou Ann Barton has been slaying audiences (mostly in the Austin area) for the past 40 years with her unique brand of Lone Star soul and sass. I highly recommend some of her more recent collaborations with longtime accomplice Jimmie Vaughan. This sultry cover of a Charles Brown tune is from the 1983 comp Austin Rhythm & Blues Christmas. Please Come Home for Christmas
Did you know Bob Marley covered a Christmas standard? It happened, once… at Coxsone Dodd's fabled Studio One in Kingston. Now I'm not going to suggest this is an essential entry in the Marley discography. Just thought I'd throw it out there for those of you who like to fire one up with friends and family members on Christmas Eve. White Christmas
Here's a follow-up to our recent post on Amos Milburn. Like many jump blues legends, Milburn struggled to make ends meet following the onslaught of rock 'n roll in the mid-Fifties. But he had one thing going for him… actually, two – a couple of Christmas tunes that helped him get through the lean years. He waxed the gently rockin' Christmas (Comes But Once A Year) for King Records in 1960, a fine little number that was largely redeemed by his barrelhouse piano. But it's not in the same zip code as this Aladdin single from 1949. If you're trying to assemble the ultimate holiday jukebox, you simply can't do without this one. Let's Make Christmas Merry Baby
What do I know about this next song? Not much. It was recorded in 1955 on the L.A.-based Hollywood label. It's been credited to The Ebonaires as well as The Jackson Trio. And it probably belongs on the same jukebox I just mentioned. Can't argue with the ingredients – some drunken sleighbells, a wailing R&B sax, a solid dancefloor shuffle and a holly-jolly coda. Just add your favorite holiday spirits and shake. Jingle Bell Hop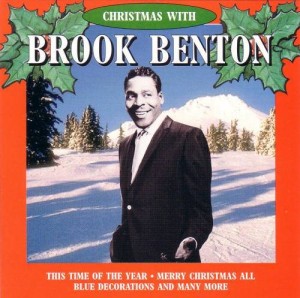 I guess I've been paying enough attention to the world outside to be aware of the latest brouhaha involving faux reporter Megyn Kelly of Fox News. Fact is, the debate around Santa's racial identity has been going on for years. Singer Brook Benton asked the question back in 1971 in his yule-flavored nugget Soul Santa: "Wouldn't it be so revealing if Santa had black kinky hair?" The song then spells out the disastrous consequences for children around the world: His cheeks wouldn't be rosy… You'd see red underwear peaking over his soulful, soulful jellyroll… He'd be a fine soul brother who loves all his fellow man… And, worst of all, he'd do anything for you – or at least he'd do what he can. Personally, I'm glad the likes of Megyn Kelly are protecting my progeny from such a dire outcome. Soul Santa
Let's fast-forward a few days… Christmas presents have been opened. Empty bottles are lying on the floor. Santa's already made it back to either the North Pole or the 'hood (thankfully, Fox News has launched an in-depth investigation to straighten this out). And now I'm staring at some glassy eyed relatives with far too much time on their hands. Frankly, I'm a little scared of what lies ahead. So I put on my smoking jacket, slip on some Lightnin' Hopkins and, now that I've got this post under my belt, go back to staring at the snowfall outside my window. Ain't gonna worry me to death. Happy New Year
Here's a surreal treat from Walt Disney, circa 1935. It helps if you can get past some unfortunate racial imagery (during the same period, an early incarnation of Mickey Mouse was heavily influenced by minstrel shows and blackface).