"Tim, what have you been listening to lately?" Well, I'm glad no one asked! But that won't stop me from responding with a few random observations that reflect my equally random listening habits…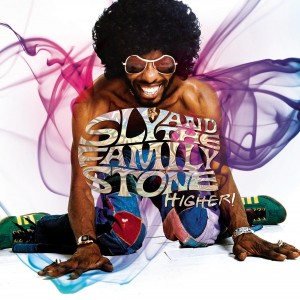 Lately I've been digging into the relatively new Sly Stone box set, Higher! It serves as Exhibit A in the argument that Stone and Family remain among the more underappreciated acts that emerged in the late Sixties. I'd also argue that Sly & the Family Stone and Santana were the most musically accomplished bands from the Bay Area scene – and, according to the liner notes by Stone biographer Jeff Kaliss, you could catch both bands at the Winchester Cathedral in Redwood City back in '67 for a mere two bucks… So there's another good reason to own a time machine.
If you're looking for good reasons to own Higher, I'll start with a garage-surf track that Sly recorded for San Francisco's Autumn label back in 1964. At the time, Sly already had a hit under his belt as a producer (Bobby Freeman's C'mon and Swim), and he was gaining a strong reputation as someone who knew his way around a studio. In fact, several of the Autumn cuts feature him playing all instruments… Had no idea he could burn like this on guitar… I Just Learned How to Swim
Then there's the added bonus of hearing some of the band's classic singles in glorious mono (although I'll admit that those mono mixes are probably best experienced in the confines of a vintage American muscle car with a push-button radio). You also get some interesting and, at times, very funky cuts from the sessions that led to the band's first album A Whole New Thing. So I'll credit the box set for making me aware that Dance to the Music was actually Sly & the Family Stone's second album… which is when the band really hit their stride as a multi-racial genre-bending killer-hook groove machine. Are You Ready
What's up with this garage-rock band from Ireland, The Strypes? They remind me of Jake Bugg in that they seem to have a musical wisdom and rootsy feel well beyond their actual time on earth. I like this video for two reasons: 1) evidence of a band that was born to rock with great swagger and a fearless attitude and 2) Dave Letterman's giddy reaction to their performance (understandable, given his obvious appreciation of other acts in the same garage-y mold). So what if it's a little derivative? I'm always game if it comes with a swift kick in the ass…
Speaking of wonderfully derivative, I'm also intrigued by St. Paul and the Broken Bones. A friend recently sent me an article in the Charleston City Paper that delves into the fascinating backstory of the band's lead singer, Paul Janeway. He originally wanted to be a preacher, then decided to work on cars. Then he quit his job as a bank teller because his boss threatened to fire him if he followed through with a planned gig at Austin's SXSW Festival. Oh, and he doesn't drink or smoke, which earned him the title St. Paul. But the most important takeaway here is that he sings just like Otis Redding (well, maybe Otis' white, teetotaling, bank-telling cousin)… Say amen, brothers and sisters!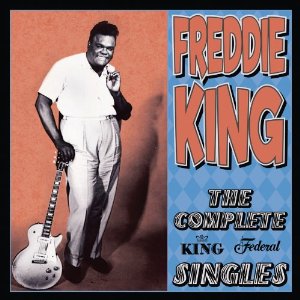 There is no such thing as too much Freddie King on King. I started out with a couple of first-rate collections on the Modern Blues Recordings label (now defunct, I believe) – Just Pickin', which lovingly compiles 24 scorching instrumentals that he recorded for the King Records label in the early Sixties (including a song that inspired a young Eric Clapton, Hideaway); and Freddie King Sings, which comes as billed (featuring another cut that Slowhand famously cribbed, Have You Ever Loved a Woman). Then I tried to fill out the picture with another comp that pulled from Freddie's fruitful years at the Cincy-based label.
But if you want a fine two-disc overview of this stuff, try The Complete King Federal Singles – released a couple of years ago on Real Gone Music, which I believe is the new caretaker of the amazing King Records legacy. I've had most of these songs for years, but it's great to have the essential recordings in one place – and sounding pretty damn good with the latest mastering techniques, I might add (second guitar on this one by the legendary Lonnie Mack)… Girl from Kookamuga
Finally, I'm hooked on this heavy new song by the pride of Kent, Ohio, Jessica Lea Mayfield – a brooding rocker from her new album Make My Head Sing... due out April 15. "The whole record is just me and Jesse (husband Jesse Newport) and my drummer Matt Martin," she says on her label's website. "I think a lot of my favorite bands are guitar, bass and drums. I wanted to simplify things." Well done… Here's a little two-minute taste (if you want the whole enchilada, head over to iTunes): I Wanna Love You