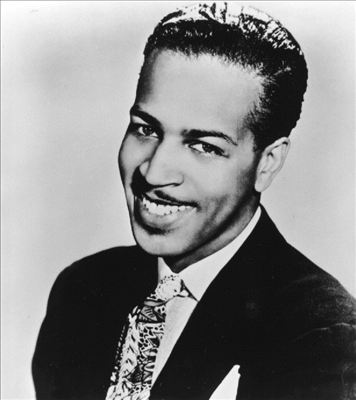 The Voice just kicked off its 7th season on NBC… Seems like a good excuse to talk about Wynonie Harris – a truly badass blues shouter who would send the smug, preening judges on (insert name of TV talent show du jour here) running for their lives.
Yes, we're a little starstruck when it comes to the man they called Mr. Blues. Here's just two reasons why he's on our shortlist of roots music heroes:
1. The great American drinking song… We covered this grand tradition here and here, and both posts feature towering achievements of the form by Harris, who spent most of his life conducting extensive research on all things alcohol. Here's another shot of the good stuff: Drinking Blues
2. The great American "let's get it on" song… That's right, long before J-Lo sang the praises of her own booty and Marvin Gaye healed our sexuality, Wynonie cranked up the carnal heat with frisky little numbers like this one: Keep On Churning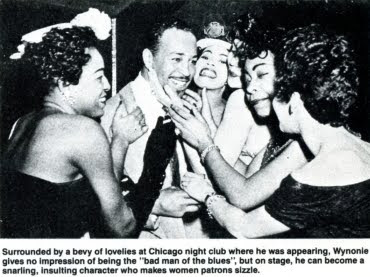 Harris also did a fair amount of research on the second subject, as King Records boss Syd Nathan and one of his partners discovered when they met their new hire in a Harlem hotel. "They knocked on the door of his hotel room and, invited to enter, walked into the room to find Wynonie lying in bed wearing only a pair of pink satin underpants, accompanied by three naked women" (Tony Collins' liner notes from the appropriately named UK comp Lovin' Machine).
Oh, and his favorite word was motherfucker… Maybe Wynonie would have been a far more popular artist had he arrived on the music scene today.
But Harris clearly had the chops to back up all that swagger. I love Big Joe Turner… dig Roy Brown and Jimmy Witherspoon… get a little weak-kneed whenever I hear Big Maybelle or Eddie "Cleanhead" Vinson… but Wynonie combined that big, booming sound with just the right amount of grit and gravel. It's like pouring a rich Chateaubriand sauce over chicken-fried steak (or at least that's how I imagine it). All She Wants To Do Is Rock
It's the sound of post-war, urban America, and Wynonie had the perfect background to become an R&B legend. A native of Omaha, he initially flirted with a career as a professional dancer (much like his contemporary, T-Bone Walker) and even studied medicine at Creighton University. But he couldn't resist the sound of big-city blues, so naturally he started gigging in Kansas City in the late Thirties, where he was schooled by great singers such as Turner and Jimmy Rushing.
After a brief stint in L.A., he moved to Chicago and waited out the WWII recording ban by performing at the city's storied Rhumboogie club, where he was discovered by Lucky Millinder. The R&B/swing bandleader took him to New York City, booked high-profile gigs at the Apollo Theater and the Savoy Ballroom in Harlem, and brought Harris into the studio in 1944 to record the singer's first classic drinking song, Who Threw the Whiskey in the Well. The tune reached number one on the nation's R&B charts the following year, which gave Wynonie all the encouragement he needed to pursue a solo career: Who Threw the Whiskey in the Well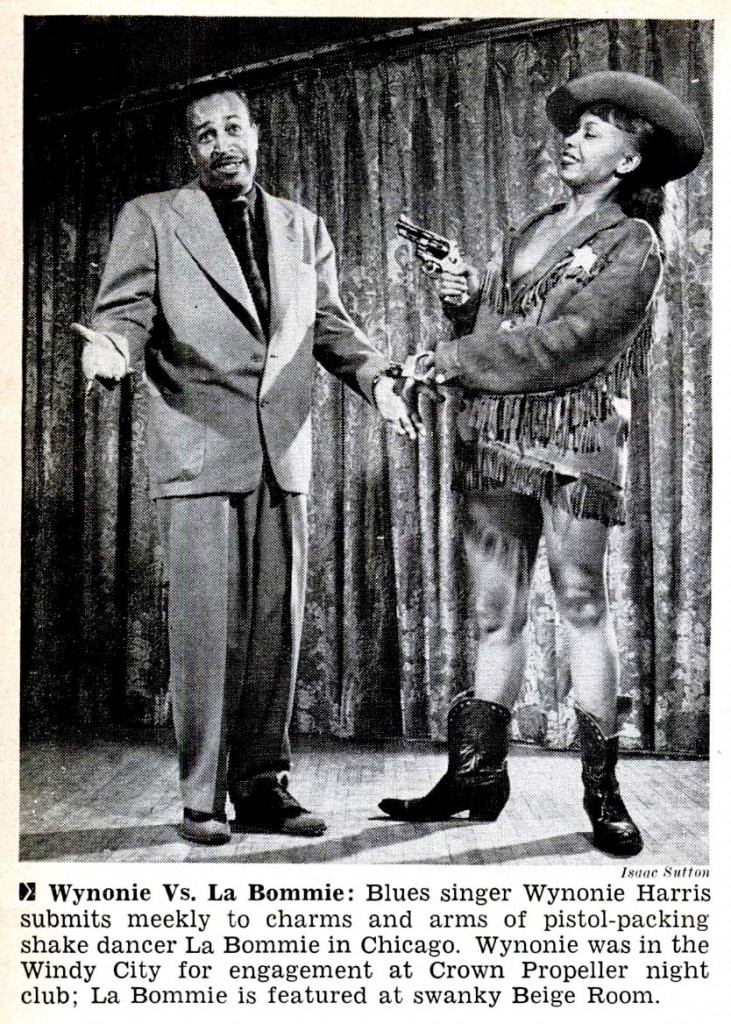 By the time Harris landed back in L.A. in 1945, he was a seasoned professional who needed no amplification at all, thank you, to get the attention of the hard-drinking patrons of Central Avenue's crowded nightclubs. He joined forces that year with Johnny Otis to record another R&B hit, this one for the Philo label: Around the Clock, Pt. 1 And that set off a flurry of sessions for several other independent labels, including Apollo, Hamp-Tone (vibraphonist Lionel Hampton's imprint) and Bullet.
Which brings us to Wynonie's glory years (roughly, 1947 to 1954), when he recorded one jump blues gem after another for Cincinnati's King Records.
As we pointed out in this post, few labels (major or independent) could rival King's output from the late Forties to the early Sixties – The Stanley Brothers, The Delmore Brothers, Moon Mullican, Cleanhead Vinson, Little Willie John, Freddie King, Hank Ballard, James Brown, etc. King was a true test for Harris' fledgling career. And if Nathan had any doubts about his new find, they were quickly dispelled by one of Wynonie's first singles for the label – a 1948 remake of a Roy Brown single that reached the top of the R&B charts and presaged the arrival of rock 'n roll with Elvis' version six years later: Good Rockin' Tonight
Harris became a big draw on the R&B package tours that crisscrossed the country in the early Fifties. One drew about 10,000 fans to the Cleveland Arena in 1953 thanks to the promotional support of DJ Alan Freed, who hosted "The Moondog House" on WJW radio. The tour was headlined by Ruth Brown and included Buddy & Ella Johnson, jazz giant Lester Young, The Clovers and boxing champ Joe Louis, who was looking for any opportunity to pay off debt.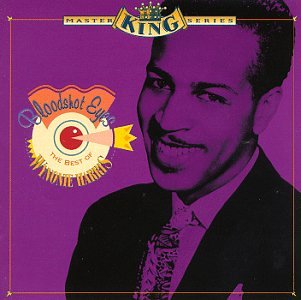 I have my favorite songs from Wynonie's King years (including the previous tune and the ones sampled up front). Here's a hard-rockin' blues that helped introduce Harris' moniker to the record-buying public in 1950. But his non-musical greeting might've been even more impressive. According to Galen Gart's notes for Bloodshot Eyes, The Best of Wynonie Harris, "Wynonie would typically announce his entrance at his soirees with more than just a dash of bravado, telling his guests, 'Mr. Blues is back in town, and I have enough money to air-condition Hell!'" Mr. Blues is Coming to Town
During the King years, Nathan recorded Harris in New York City and Linden, NJ with some of the best players in the business – Millinder and band, Hal Singer and Red Prysock on tenor sax, Ted Buckner on alto sax, Mickey Baker on guitar, etc. But it's hard to top the label's regular session crew in Cincinnati – especially pianist Sonny Thompson and band, heard to great effect on Freddie King's signature songs (this one probably features Bill Johnson on guitar): Bring It Back
Wynonie scored another big R&B hit with this cover of a tune co-written by one of King's many hillbilly artists, Hank Penny. I'm sure Nathan was pleased, since he owned the publishing rights to all of his artists' songs (this one gave him a "two-fer," since Penny's single had already climbed the C&W charts). Bloodshot was recorded in NYC with some top-shelf talent, including Big John Greer on sax: Bloodshot Eyes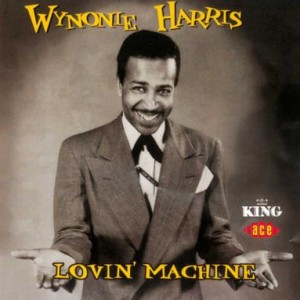 Harris' final R&B hit (from 1952) is one of his best, featuring the locomotive sound of Todd Rhodes and his Orchestra. It's hard not to appreciate the lyrics by Lambert Merritt, which seem to describe a prototype for Woody Allen's Orgasmatron from the movie Sleeper: "Well you pull the lever on the right, two arms jump out… wrap all around you, make you scream and shout" (Merritt might have had Wynonie in mind when he added the line "when my machine finishes, that ain't all – out comes a bottle of Hadacol!"). Lovin' Machine
If you read our posts on Amos Milburn, The "5" Royales and Little Willie John (among other R&B legends), it shouldn't surprise you that Harris' fortunes faded with the arrival of rock 'n roll and everything that followed. Of course some of his decline was self-inflicted, as years of smoking, heavy drinking and carousing (whatever that implies) finally caught up with him.
King let Harris go in 1954, although the label brought him back for two more sessions in '57 that resulted in at least one keeper. Then things more or less ground to a halt in the Sixties as his health worsened. He cut a handful of forgettable tracks for several labels (including Chess) and even ran a few taverns in New York and on the West Coast (probably not the best occupation for a full-blown alcoholic).
One of his final performances took place in 1967 at Harlem's Apollo Theater, where he was joined by Big Joe Turner, T-Bone Walker, Big Mama Thornton and Jimmy Witherspoon – a heavenly lineup for jump blues fans. Then he passed away two years later at the age of 53 from esophageal cancer.
Although his death went virtually unnoticed at the time, he's now recognized as a major influence on the first generation of rock 'n rollers. So raise a glass – yes, even you bearded, bespectacled and overly sensitive indie rockers – to the man they called Mr. Blues.
No live footage of Wynonie Harris on YouTube… Might as well raise another glass: