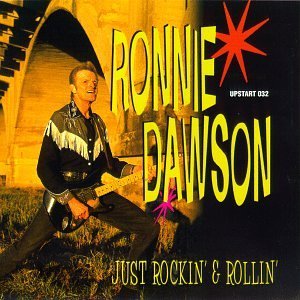 A 56-year-old rockabilly legend teams up with some hungry young hotshots… throws them 16 hard-bitten songs that are ready to burn… and then lets it rip in an old-school analog studio, where everything is recorded in glorious mono. An instant classic? Maybe in a parallel universe, where Elvis swears off pharmaceuticals and fried banana sandwiches. In the real world, it's just another great record that few people heard before it dropped off the face of the earth.
Of course, it didn't help that the label, Upstart, quietly folded only a few years after the record was released in 1996. Or that the artist, Ronnie Dawson, only had about five good years left in him before he died of throat cancer in 2003. Or that rockabilly remains a genre of limited interest to most people.
Dawson, aka "The Blonde Bomber," was no stranger to adversity. A native of Dallas, he was surrounded by music as a kid – his dad, "Pinky," fronted his own western swing band. The younger Dawson soon picked up the guitar and became a teen sensation playing rock 'n roll and honky tonk music in the Dallas area. And he quickly gained the attention of the ageless one himself, Dick Clark, who signed him to his Swan label. But then Clark and his label got caught up in the payola scandal of the late-'50s that also dragged down former Rubber City DJ Alan Freed. And Dawson was sent adrift, without a label or opportunities to capitalize on his early hits, like Action Packed or this one… Rockin' Bones
The Blonde Bomber eventually signed with Columbia, where he recorded several first-rate singles. I especially like the B side to Do Do Do, released in '61. It's a churning blues-rocker called Who's Been Here, with Dawson (under the alias Commonwealth Jones) wailing away in his high-pitched, almost otherworldly voice… Who's Been Here
Dawson also carved out a niche for himself as a multi-instrumental session player, even showing up as a drummer on notable rockers like Hey! Baby by Bruce Channel and Hey Paula by Paul and Paula (effectively cornering the "hey" market). But he always remained well under the radar screen – except in Europe, where his rockabilly hits were revered by roots-music fanatics throughout the Continent.
In his book Texas Music (published in 1998), journalist Rick Koster tags Dawson as a criminally underrated artist: "Ronnie Dawson is an ageless phenomenon, a fire-fingered genius who helped create rockabilly and then resurrected it forty years later – all without seeming to move in time."
Beginning in the late '80s, Dawson decided to build on his newfound cult status across the pond by recording several albums in England. I especially like the previously mentioned release from '96, Just Rockin' & Rollin' – mainly because it features the blazing guitars of Los Straitjackets member Eddie Angel and another young turk, Amsterdam native Tjarko Jeen. And Dawson, who had been shredding since his teens, brought his own bag of tricks to the proceedings. I'm not sure who's who on this next cut (I think Jeen takes the first solo, then Angel), but it's pretty clear these guys came to play… Sucker For A Cheap Guitar
As you can tell, the album was recorded in near-complete denial of the improvements that had been made in studio technology since the first rockabilly records were waxed in the mid-'50s. And this, of course, is another one of its key strengths. It's as if someone had rescued the Rockin' sessions from a long-lost tape discovered at a garage sale in Memphis. Just Rockin' and Rollin'
But this is hardly just another form of retro-mania. For a fairly hard-core rockabilly cat, Dawson brought a nice diversity of material to the Upstart project. A couple of songs even fall under the category of border-rock. In a 1999 article that appeared in the Dallas Observer, Dawson mentioned that he was inspired to write Mexigo and Veronica after sharing the stage with conjunto accordionist Mingo Saldivar in 1994 at Carnegie Hall, where both men performed as part of a roots-revivalist showcase. "Wearing a big grin, Dawson says they're 'conjuntobilly' songs," noted writer Robert Wilonsky. Here's a little visit to Mexigo.
Even with these side trips thrown in, Rockin' comes across exactly as billed – no-frills rock 'n roll made by grown men with bad habits and scars to prove it… You Got a Long Way to Go
Dawson recorded two more albums after Rockin' – Live at the Continental Club (released in '98) and More Bad Habits ('99) – and kept touring like his life depended on it… which was probably the case, given the shamanistic powers of his live performances. And even though he couldn't beat the Big C, his legacy lives on through classic rockers that bear the unique stamp of this bigger-than-life Texan.
The Blonde Bomber, live at L.A.'s Blue Saloon (Nov. 1990)… Dawson backed by a great rockabilly and western swing band from Southern California, Big Sandy and His Fly-Rite Boys. I love how this amateur video seems to drop you right in front of the band at one of those small bars where a stage seemed like a frivolous expense. So good, I had to include two clips (Dawson's beaming grin during V-8 Ford Boogie seems to say it all)…