At what point did we know that the box set was deceased?
Was it when the German Bear Family label released a 12-CD collection (with hardcover book) of Pat Boone's complete '50s recordings? Or when America's leading reissue label, Rhino Records, laid off 20 percent of its staff – resigning itself to the fact that the vast majority of people under 30 refuse to pay for music?
Regardless, it's been a good run for those of us who like to deep-dive into our favorite artists' back catalogs. So let's cherish the digital memories… even as we curse the unwieldy cardboard boxes taking up valuable shelf space in our partially assembled particle-board entertainment centers.
Here's the rest of the list we started in our last post – five more box sets that you probably don't have the time to listen to (although one kept me from going insane during a major paint removal project).
Sonny Rollins: The Complete Prestige Recordings… Members of the assembly, have we grown soft worshipping false idols? There is only one Greek god of the saxophone, and his name is Rollins. Let us bow down as he hurls mighty bolts of power and majesty from his throne atop Mount Colossus. Sorry… I get a little giddy listening to the "Complete Prestige Recordings," which captures the meteoric rise of Sonny Rollins from journeyman be-bopper to one of the true giants of jazz. He was a man of contradictions, a daring soloist who could burn with blazing speed and dexterity but often played his favorite show tunes with great reverence (and maybe just a tinge of irony). And that lyricism often seemed at odds with a sound that was about as bold and muscular as any one man can wring out of an acoustic instrument. There's a lot of variety in this set as Rollins supports Miles Davis and Thelonious Monk, and even goes head-to-head with John Coltrane on Tenor Madness. But the best tunes are those with Rollins firmly in charge, and the opening to You Don't Know What Love Is – from his masterpiece, "Saxophone Colossus" – even sets the gold standard for "jazz noir"… You Don't Know What Love Is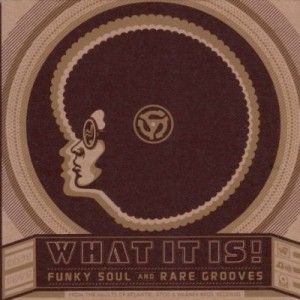 What It Is! Funky Soul and Rare Grooves… Those of you who collect vinyl usually enjoy the act of crate-diving – the thrill of the hunt, as they say. In my younger days, I spent a fair amount of time combing rat-infested record stores. Now I thank god for labels like Rhino Records for doing all the hard work for me and coming up with outstanding collections like "What It Is!" As allmusic.com rightfully points out, "it would cost a fortune to collect these songs in their original form of release." I say, just bring me the goods – and Rhino delivers. Even hard-core collectors of rare funk and soul give the label credit for digging especially deep to come up with some great hidden gems on this one, although a few of the artists (Aretha, Commodores, Curtis Mayfield) are hardly unknown. In another post, I featured my favorite song from this collection – Fairchild by Willie West. Here's another standout cut from "What It Is!"… You Gotta Know Watcha Doin'/Charles Wright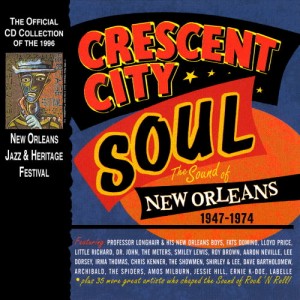 Crescent City Soul: The Sound of New Orleans, 1947-1974… In one episode of the new HBO show "Treme," much is made of an out-of-print box set by famous New Orleans producer, arranger, bandleader and all-around musical wizard Dave Bartholomew (basically, nutjob DJ Davis steals it in an act of revenge). Well, I wouldn't mind stealing "The Genius of Dave Bartholomew" myself. But in terms of sheer awesomeness, I'd have to give the edge to this 4-CD, 119-song, equally hard-to-find set featuring some of the greatest songs ever recorded in the Crescent City. And yes, Bartholomew has a hand in a lot of them – Trick Bag by Earl King, Stack A Lee by Archibald and Walking to New Orleans by Fats Domino, to name a few. So good, it was named the "official collection of the 1996 New Orleans Jazz and Heritage Festival." And so hard to describe in just one paragraph, so I'll leave you with just two of the many delicious R&B nuggets on "Crescent City Soul." By the by, the Rock and Roll Hall of Fame and Museum will honor 89-year-old Bartholomew and long-time musical partner Fats Domino, 82, in its 15th Annual American Musical Masters Series set for this November in Cleveland. I Done Got Over It/Irma Thomas Travellin' Mood/Wee Willie Wayne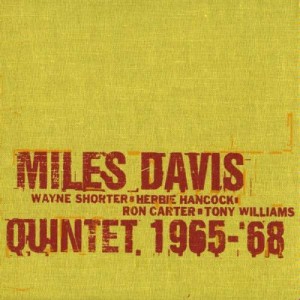 Miles Davis: The Complete Columbia Studio Recordings of the Miles Davis Quintet… Back in the early '60s, who would've thought that Miles Davis could top his legendary quintet with John Coltrane (the one that recorded the classic "Kind of Blue")? Well, in just a few short years, Miles had assembled a new band that some jazz fanatics simply call "the second great quintet." Miles, Wayne Shorter on sax, Herbie Hancock on piano, Ron Carter on bass and Tony Williams on drums. It's no exaggeration to say that hundreds of contemporary jazz acts are modeled after this band. Miles' new quintet started out deconstructing the same standards that the Miles-Coltrane band perfected – songs like Stella by Starlight and All of You. Then they ventured off into playing original compositions, many by Shorter, that simply served as launching pads for the kind of breathtaking group improvisation heard here… Footprints And toward the end of their tenure, they built the foundation for Miles' next journey into the land of electric funk… Stuff I've listened to this set many times, but I still feel a sense of discovery every time I play it.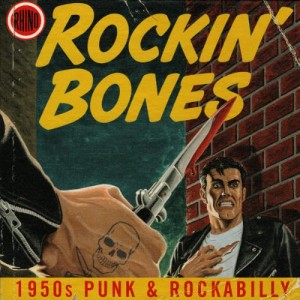 Rockin' Bones: 1950s Punk and Rockabilly… Another fine set from the good folks at Rhino – a wild ride through the many joys of '50s rock 'n roll, hillbilly style. I would've been disappointed with another collection of the classic stuff I already own. So I especially like the way this one moves from the familiar (Summertime Blues by Eddie Cochran) to the obscure (Down on the Farm by Al Downing). Of course, rockabilly purists might argue that the set is skewed in favor of the familiar, and some might question the "punk" label being applied to music that appeared some 20 years before the Sex Pistols spat on their first fan (although I'm not sure I can come up with a better label for this next tune, which later was subject to even greater depravity at the hands of psychobilly sickos the Cramps: Love Me/The Phantom). But let's not pick nits – this is hugely enjoyable stuff. And, since many of the artists are of Appalachian descent, there's also some first-rate guitar pickin' throughout. Plus the audio clips from vintage teen-film trailers – like this one and this one – make it even more essential. Play it in your car and obey the speed limit… I dare you. Action Packed/Johnny Dollar
Ten more worth mentioning:
Joe Henderson: The Blue Note Years… This set features the pride of Lima, Ohio, as bandleader and sideman (with, among others, Lee Morgan, Horace Silver and McCoy Tyner). But it really tells the story of one label's glory years.
Sam Cooke's SAR Records Story… As a label head, Sam Cooke was full of surprises – from the gritty gospel of the Womack Brothers to the juke-joint blues of  Johnnie Morisette.
Sir Douglas Quintet: The Complete Mercury Recordings… The king of border rock plays some of our farfisa-driven favorites and a whole lot of Texas rock 'n soul. Plus Mendocino en Español!
James Brown: Star Time… Still the best funk collection ever assembled. Slap it on at a party and let the games begin.
The House That Trane Built… Another great overview of a groundbreaking label – in this case, John Coltrane's last stop, Impulse!
Cuba: I Am Time… A cigar box that holds the island's greatest export – a rich musical tradition that contemporary Cuban bands seem to reinvent every day.
Big Ol' Box of New Orleans… Some overlap with "Crescent City Soul," but another outstanding collection of prime R&B from the cradle of American roots music, with more of a modern twist.
Thelonious Monk: The Columbia Years… An exhaustive set would have many versions of the same composition. Thankfully, this 3-CD set offers a more diverse overview – from solo to big band performances.
Muddy Waters: The Chess Box… Probably my first box set – a Christmas gift from my mom. She called it "jukin' music." I call it the source of all that is good and right in the world.
Dexter Gordon: The Complete Blue Note Sixties Sessions… A 6-CD meditation on what it means to be "urbane."
Blues, New Orleans-style… The late, great Earl King at the Chicago Blues Festival, doing that thing that he used to do so well.