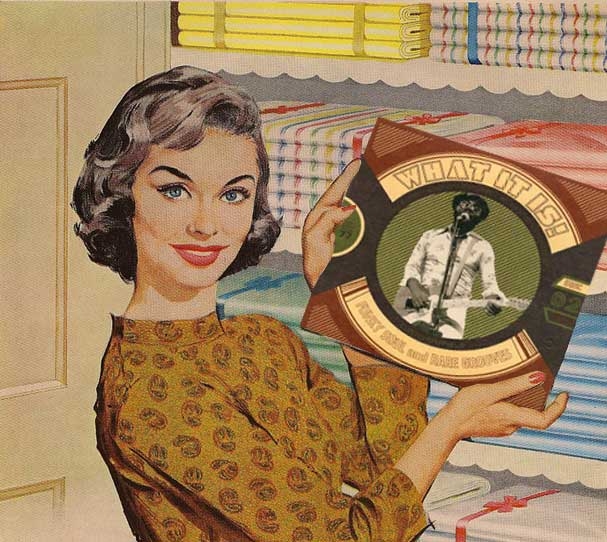 Remember the box set? Actually, in a year or two we might be asking ourselves, remember compact discs?
I came fairly late to the CD party – which is probably a good thing, because a research team comprising the world's leading acousticians recently found that first-generation CDs from the mid-'80s sound like complete dogshit. All that tinny, undefined high-end noise and hardly any bass. Which is probably fine if you're listening to tinny, undefined, noisy and baseless pop music from the Eighties, but virtually useless if you're trying to get your groove on to James Brown and The Fabulous Flames.
Once I started buying CDs, I became one of those maniacal completists who needed to replace virtually his entire record collection with what most of us considered to be a clearly superior format. Yes, I was part of a small army of consumers that kept the major labels propped up about 20 years longer than they deserved.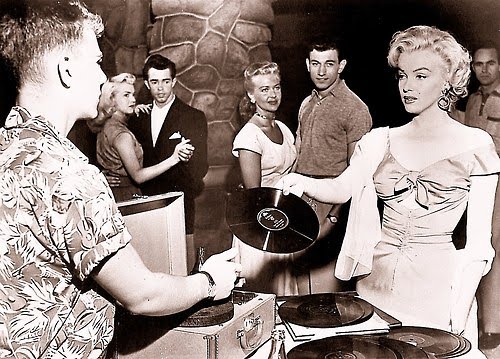 I won't even argue that CDs sound better than vinyl. I've listened to heavyweight virgin vinyl records played on high-end turntables hooked up to tube-driven amplifiers, and it's truly a heavenly sound. Just a few weeks ago, nephew Dan convinced me that some 45s actually sound even better than LPs – something about more music data per inch of groove, greater presence and resolution, etc. He played me a French rock 'n roll single from the early Sixties (might have been Johnny Hallyday), and I couldn't deny it was sonically superior to the album he had on earlier. Check here for more on this late-breaking news.
But I'm still no audiophile (as evidenced by the term "complete dogshit," which doesn't pop up much in Sound and Vision magazine). All things roughly equal – in other words, as long as it wasn't a Wang Chung CD released in 1984 – I preferred the convenience of slapping a few compact discs in a carousel changer and letting it play all night long. And from there it was just a short walk to endlessly streaming, easily organized mp4 files… preferably played through a tube-driven amp.
Even if CDs become the next casualty in the continued demise of the music industry as we know it, I'll miss the sheer, tactile pleasures of the box set.
There's something about those sturdy, attractive booklets with exhaustive information on each recording session – date, studio, producer, engineer, instrumentation, label, chart position, etc… The way everything neatly fits together, like a set of building blocks for kids (appropriate, since we usually give or get box sets for Christmas)… The sense that you're holding in your hands the most important works of a major recording artist's entire career – which is probably as enjoyable for me as it is humbling for the artist.
Based on these and other important criteria – like whether I own it – RCR's research subordinassociates are proud to offer this carefully calibrated list of the 10 Greatest Box Sets of All Time (in no particular order). We'll apologize in advance for the fact that a few of these are long out of print… and that we're only covering half of them in this post.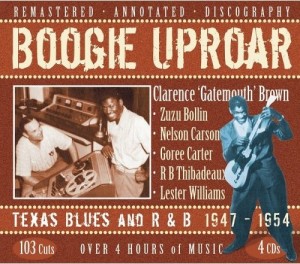 Boogie Uproar: Texas Blues and R&B, 1947-1954… The good Brits who run the JSP label deserve some sort of royal commendation for their consistently first-rate and affordable box sets. If anyone asks me where to start with musical giants like Charlie Parker, Django Reinhardt or Louis Jordan, I just tell them to plunk down $30 (or less, depending on where you shop) and buy one of their budget-priced, five-disc sets – you'll have just about all the Bird, Django or Jordan you need. Granted, most of that stuff had already been available elsewhere… but you'd be hard-pressed to find virtually all of Clarence "Gatemouth" Brown's classic Peacock recordings in one place. For those who like slashing Texas blues guitar backed by a tough-as-nails horn section, this is the motherlode. Rounder Records gave us a stingy 12-song Peacock collection back in '92; JSP ups the ante with 38 cuts of prime Gatemouth… PLUS 35 cuts by an even harder-edged Goree Carter… PLUS four by another overlooked and underrated Texan, Zuzu Bollin… PLUS 18 by the virtually unknown but notable blues shouter/guitarist Lester "I can't lose with the stuff I use" Williams. And, of course, it took a British label to deliver the goods. Here's just a small taste… That's Your Daddy Yaddy Yo/Clarence "Gatemouth" Brown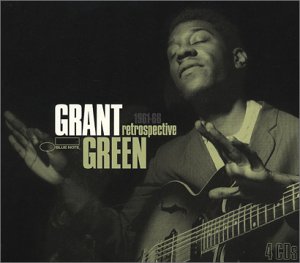 Grant Green Retrospective: 1961-1966… Next to JSP, the best source for quality box sets is probably the Blue Note jazz label… but it appears they might have released their last set several years ago (another great box-set label, Rhino Records, seems to be struggling). If you can still find them, I highly recommend virtually all of these collections – the complete Blue Note Sixties sessions of Dexter Gordon and Herbie Hancock, the complete Blue Note and Roost recordings of Bud Powell, the Horace Silver retrospective, etc. But if you follow RCR on a fairly regular basis, you know that all of us get a little light-headed when it comes to guitarist Grant Green. We believe every young guitar-shredder in America should be required to listen to Blue Note's Grant Green Retrospective. It may not stick, but at least they'll know what a true master sounds like. The first two discs feature some of the best organ-combo tunes ever recorded, including this funky workout featuring the great Big John Patton: Soul Woman And the last two discs show off Green's prodigious jazz chops in a number of different settings, including one he used to play spirituals (love Hancock's churchy piano on this one… some jazz is meant to be played loud): Go Down Moses This is beautifully recorded, deeply satisfying stuff – and once you get hooked, you may end up sounding as evangelical as we are about the real pride of St. Louis.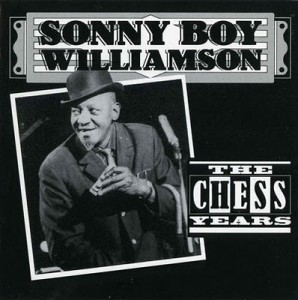 Sonny Boy Williamson: The Chess Years… This is one of my most prized possessions – all of Sonny Boy II's Chess recordings (originally released on its Checker subsidiary), with a bonus disc of alternate takes and studio chatter. There's just so much to savor on these discs – the dazzling guitar of eventual Cleveland resident Robert Lockwood Jr., the amazing piano of Otis Spann, the world's greatest blues rhythm section – Willie Dixon on bass and Fred Below on drums… and, of course, Sonny Boy. His worst stuff sounds better than most of the blues recorded since the mid-'60s. Sonny Boy always gets his due for his deeply soulful harp playing, but I keep coming back to his voice, which is unlike any other in blues. That little vibrato he'd throw in, especially on the lower notes, gets me every time. It's like he's mimicking the same guttural sound he gets out of his harp, which blew away the competition (except for Little Walter, of course) with no amplification at all: Help Me On one tune, he even mimics the howl of dogs on the hunt. And hard-core blues hounds always like to bring up the famous exchange with Leonard Chess on Little Village (hey, I've already shared it with you twice… check it here). Unfortunately, this set is long gone – but you can pick up most of the pieces as part of various Chess re-releases, like the Essential Sonny Boy Williamson (on mp3).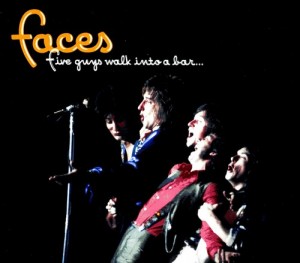 Five Guys Walk Into A Bar (Faces)… At RCR, we like our rock 'n roll ragged but right, with no overdubs or apologies. And in this case, amazingly, it involves the same guy who spent much of the last decade snuggling up to the Great American Songbook. Hard to believe that Rod Stewart was once among the world's pre-eminent rockers. And he had one hell of a band to keep him honest – Ian McLagan on keyboards, Ron Wood on guitar, Ronnie Lane on bass and Kenney Jones on drums. The beauty of "Five Guys" is that it goes far beyond a glorified collection of greatest hits. Sure, you get the best of their studio recordings, like Cindy Incidentally, Ooh La La and Miss Judy's Farm. But this set is packed with live recordings, rehearsal tapes, BBC broadcasts and other oddities that showcase the Faces in all their drunken glory – just letting it rip like a red-hot bar band near the end of a long night. Most of the credit for "Five Guys" goes to McLagan, who selected the songs (some from his own archives) and sequenced them out of chronological order for a better listening experience. He also gets extra points for coming across in interviews as one of the coolest guys on the planet. And he's a pretty damn good player to boot: Miss Judy's Farm (live)/Faces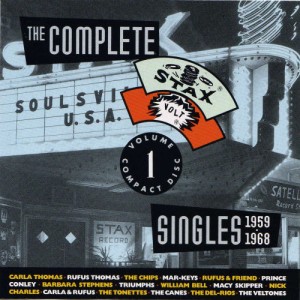 The Complete Stax-Volt Singles: 1959-1968… If Memphis soul is America's greatest musical treasure, then this is Fort Knox. I borrowed this box set from a friend of mine, a fellow musician who played keyboards and sax. We spent hours studying these arrangements and even worked a few Stax-Volt nuggets into our band's set list. Then he passed away suddenly at the young age of 44, which somehow gave greater meaning to a cardboard box and nine shiny discs that both of us already revered, in an unhealthy, music-nerd kind of way. So this one's dedicated to J.D., who truly was the coolest guy on the planet. And getting back to the subject at hand, it's hard to hold back the superlatives. Sure, you get the tunes that all of us know and love, like Green Onions and Soul Man and Try A Little Tenderness and Knock On Wood. But there's also a lot of unsung soul on these discs – shockingly good material that remains almost completely overlooked, probably even by a few people who actually own this collection. I'll leave you with samples of three hidden gems… and I'm proud to say J.D. and I came close to nailing the third one (R.I.P., John). I'm Glad To Do It/C.L. Blast Able Mable/Mable John I'm Going Home/Prince Conley
To be continued…
Sam and Dave on video… The first clip, from the 1967 Stax-Volt Revue in Europe, shows why none of the other performers wanted to follow Sam and Dave. By '69, they'd gotten the whole band in on the act.