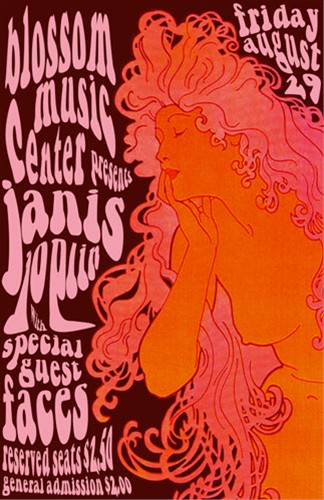 Since we got some of you to play along to "My First Album," I decided to try something else along the same lines: What's your most memorable concert experience?
The venue can be anything from a small club to an arena. And the experience can have little to do with the music being performed, as I'll demonstrate shortly.
My concert-going years got off to a very auspicious start in the summer of 1969 when my older sister Mary took my sister Keena and me to see Janis Joplin at Blossom Music Center, an outdoor amphitheater nestled in the rolling hills near the Cuyahoga River valley. My 13-year-old synapses were fried by Joplin's powerful voice and the Stax-influenced soul of her Kozmic Blues Band (only days after they performed at Woodstock). If we didn't have front-row seats, we were damn close – and I distinctly remember Joplin taking several generous pulls on a bottle of Southern Comfort during the show. Opening act: Rod Stewart and the Faces. Cost of three tickets: $7.50.
A few posts back, I wrote about my good/bad fortune of seeing the Stones during their legendary '72 ("Exile on Main Street") tour. A month later – August 21, 1972, to be precise – I almost became an Altamont-like casualty when the Jefferson Airplane brought their traveling circus to the same venue, the Akron Rubber Bowl.
My favorite part of the show was the opening act – Hot Tuna, with Airplane guitarist Jorma Kaukonen and bassist Jack Casady along with legendary blues fiddler Papa John Creach. Could've listened to that for about two hours: Keep Your Lamps Trimmed and Burning Then the Airplane hit the stage and all hell broke loose. Everything was fine until about halfway into their set, when I suddenly felt like someone was choking me and gouging my eyes out at the same time. Apparently, the police had teargassed some kids at the top of the bowl, and the gas then settled on the field below, where a few thousand of us were blissfully unaware of the small riot going on nearby. Next thing I knew, someone on stage was urging us to "attack the pigs," and then the show was over (thankfully, because I was ready to rip off my own head at that point).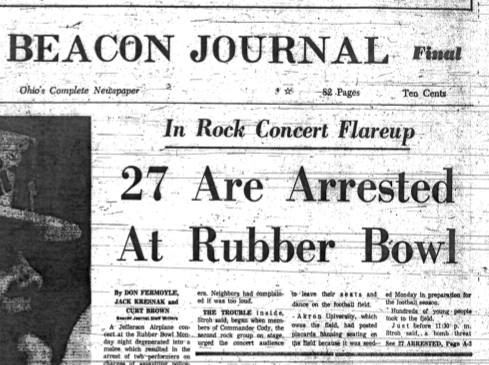 The Akron Beacon Journal broke the news to all of our parents the next day with the headline at right. And it's a classic piece of modern journalism. I'll share with you three of my favorite items from this story:
First, when singer Grace Slick was confronted by Patrolman R.E. Gott in a basement office, she "reached out to grab his whistle chain on her way out of the office. Gott said she made a clawing motion for his face after he tried to prevent her from pulling his chain." Slick and fellow Airplane member Paul Kantner were arrested for assaulting a policeman, since Akron had yet to pass a chain-pulling ordinance.
Second, the reporter quoted the band's New York press agent by noting that "Miss Slick is not formally married to Kantner, but that 'he is her old man.'"
And third, a local City Councilman who opposed rock concerts at the Rubber Bowl from the beginning said "I'm not against all kinds of shows. For instance, the Osman Brothers (sic) and some other shows were not at all bad."
Good stuff. Apparently, Slick and Kantner had to return to Akron to negotiate a deal with local prosecutors. I don't think they've been back since.
Did you ever attend a sold-out show with an adoring crowd and feel like everyone else was sipping on some special Kool-Aid that they forgot to share with you?
I remember going to Bogart's in Cincinnati to see the pride of Cleveland, the Michael Stanley Band. My overall impression of the show was that a team of scientists had successfully come up with a perfectly bland and generic strain of rock. I also noticed that every time someone jammed a guitar into his crotch, the crowd would go wild (tried that later with my own band, but it didn't seem to work as well).
I had a similar reaction when someone dragged me to see the post-punk band the Violent Femmes at the Newport in Columbus. Again, packed house, adoring fans. They kicked things off with some lame acoustic-sounding number and I thought, give it a chance – they'll probably work their way into a complete frenzy later on. Well, that never happened (Violent Femmes… another inappropriately named band, like 10,000 Maniacs). And by the time the show was over, I was convinced I could walk out of the club, head in either direction and find a better band playing on the street.
And, of course, there's Jimmy Buffett. Has anyone else made an entire career out of phoning it in? Then again, if you continually play in front of thousands of fans who know every lyric to every song you've ever written, why would you bother breaking a sweat? I mainly remember being pissed off by the long lines at the margarita vendors, because I was convinced that being shitfaced was the only way to truly appreciate this experience… or at least tolerate it.
Of course, we don't drag ourselves away from our home theater systems to be routinely disappointed by live music. And I've seen plenty of powerful, life-affirming shows over the years. I've already touched on some of those performances in this blog – Lowell George with a fine, funky band at Bogart's, only two weeks before his untimely demise… Danny Gatton at U.S. Blues in NYC, schooling every guitar player in the crowd… Gatemouth Brown at Stache's in Columbus, serving as both the main act and bouncer… Bo Diddley at the Cincinnati Gardens, with yours truly backing him up on harp…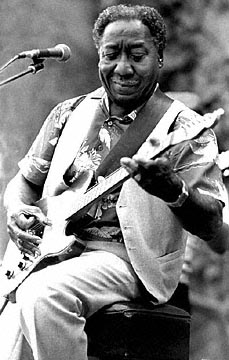 I also feel blessed to have seen Muddy Waters at the Cleveland Agora (must've been around '76, with Pinetop Perkins on piano, Jerry Portnoy on harp and Bob Margolin on guitar). Even though Muddy was past his prime, I felt like I'd found my way to the blues mountaintop… the amazing sound of that voice still haunts me today. And I'll always treasure the night that bro-in-law Chuck Auerbach and I watched Delbert McClinton and his red-hot band turn New York City's Lone Star Café into a Texas roadhouse. We were practically giddy (as opposed to "geddy," the feeling one gets at a Rush concert) driving through the empty streets of Manhattan at 3 in the morning – high on honky tonk soul and R&B.
More recently, I've watched Chuck's son Dan and his bandmate Pat Carney destroy countless stages across the country as The Black Keys. One of my favorite Keys shows was in Manhattan at Terminal 5, with opening act Heartless Bastards. Granted, the Bastards' Erika Wennerstrom ain't no Janis, but she won me over with her soulful voice and tough little band as they tore through great originals like this one: The Mountain/Heartless Bastards
And what about Sharon Jones & The Dap-Kings, bringing back the spirit of James Brown and his Famous Flames? I'm Not Gonna Cry/Sharon Jones & The Dap-Kings
Then there's West Coast Latino-rockers Ozomatli, who turned the floor of Cleveland's House of Blues into the world's hippest drum circle (this next cut is from their album "Embrace the Chaos")… Suenos en Realidad/Ozomatli
I'm sure many of you can add about 20 more to this list – and I hope you will. That's why we still drag our asses out of the house, because we never know when we'll get that giddy (or geddy) feeling again.
Some random concert memories from family members…
Brother Jack recalls the "anything goes" ethos of the Sixties at the folk music capital of the Midwest, Ann Arbor, where he saw Jim Kweskin (without his Jug Band) going through a strange phase: "The philosophy seemed to be that performing is bad. It's fake and separates the audience from the performer. So he just went up onstage and sat. He chatted with the audience for a little bit but mostly just sat there. Occasionally, if he felt like it, he would pick up the guitar and play a song. In the end it was a piece of performance art. It got people talking. Some folks would say it was dreadful, boring. Others would say it was just a matter of expectations. 'We expect too much of performers… Just go in not expecting anything and you will be satisfied.'"
Keena had an unsettling experience at a Lou Reed show at Akron's beautiful Civic Theater. "I turned around and some guy behind me was masturbating. Should've been my first clue that Lou Reed was gay. I guess I was too young to pick up on the subtle nuances of Walk On The Wild Side."
Dan tells a great story about bandmate Pat Carney (pre-Black Keys) trying to promote his fledgling music career at a performance by the Jon Spencer Blues Explosion. Carney took a cassette tape of some of his original music to the show, hoping to hand it to Spencer. He worked his way to the front of the crowd during the band's set and placed the tape on the stage. Without missing a beat, Spencer leapt in front of Carney and used the heel of his boot to smash the tape into little pieces. Thankfully, Pat's dreams of rock stardom didn't die along with it.
The floor is open… Let's hear about some of your favorite concert experiences.
Janis Joplin at Woodstock… only days before she brought her Kozmic Blues Band to Blossom: