I decided to leave this post as is, but check out the comment at the end by Waylon Lightfoot. Then check out our post on Grady Martin. Looks like I've been schooled.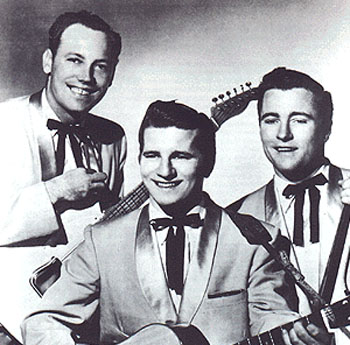 With its five Grammy nominations, The Black Keys' "El Camino" remains one of the more scrutinized entries in the band's catalog. Inquiring minds want to know, what musical well did the band draw from this time? Where did they find all those shitty-looking vans? And who exactly is Derrick T. Tuggle?
I'll leave those last two questions alone and devote this post to one of the main inspirations for the song Lonely Boy – The Johnny Burnette Trio, also known simply as the Rock and Roll Trio.
Although Dan Auerbach and Pat Carney have been very clear about this influence, I've sampled the opening of the Keys' hit next to the Trio's signature tune, Rockabilly Boogie, just to drive home the point that Johnny and Dorsey Burnette and their hotshot guitarist, Paul Burlison, were definitely there in spirit during the El Camino sessions: Lonely Boy/Rockabilly Boogie
"Paul Burlison's guitar playing made such an immediate impact on me – his sound is something I still use as a reference," Dan told me earlier this week. "Players like Burlison, Pat Hare, Willie Johnson, Travis Wammack, Lee Moses, Lonnie Mack and Junior Kimbrough are my absolute heroes."
I'm glad that Dan and Pat will come home from L.A. with more hardware for their respective tool sheds. But it still irks me that the Johnny Burnette Trio remains largely ignored (including an annual snub by the Rock and Roll Hall of Fame, which ought to devote an entire wing to the world's most dangerous rockabilly band).
If two of my favorite rumors about the band are indeed true, they would certainly rank among the most significant developments in the history of rock and roll:
Rumor #1: In one of the band's early gigs, singer Johnny backed into Burlison's lit cigarette (which the guitarist liked to stick on the end of his wound strings) and let out a blood-curdling scream. The crowd went wild, and a rockabilly tradition was born: Rock Therapy I couldn't confirm this rumor with Johnny's distant cousin, Husky Burnette, when I interviewed him in September 2011. But it's referenced in Colin Escott's liner notes to "Rockabilly Boogie" – Bear Family's essential compilation of the band's 1956-1957 recordings.
Rumor #2: Burlison landed on his nasty, distorted tone when he accidentally knocked a tube loose in his amp. This one is confirmed on the Rockabilly Hall of Fame's website, which devotes a page to Burlison. "Whenever we wanted that fuzz sound, I simply pulled a tube loose," he said. Honey Hush
That's just part of the band's rich and unusual backstory. For example, the Burnette brothers were among only a handful of early rockers who were actually born and raised in Memphis (Burlison moved there with his family when he was eight; virtually all of the Sun Records artists were from other parts of the south). Also, all three members of the Rock and Roll Trio were amateur boxers. In fact, Dorsey Burnette first met Burlison at a Golden Gloves championship.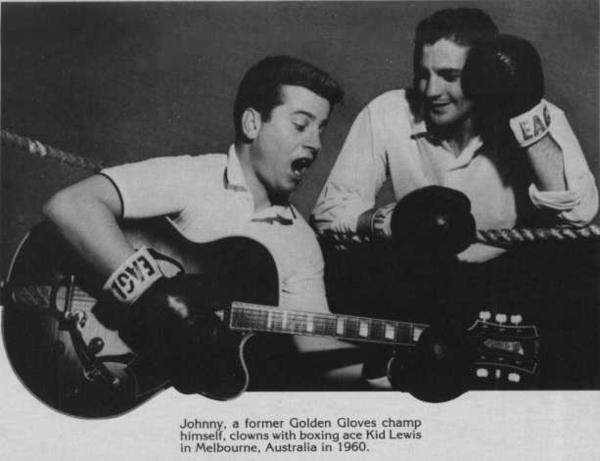 Dan's earlier mention of Howlin' Wolf's original guitarist, Willie Johnson, is interesting in that a teenage Burlison, who learned how to play blues and country guitar from his brother-in-law, started jamming with Wolf's band on Beale Street in the Forties. He reconnected with Wolf in the early Fifties when the two were featured on separate radio shows on WKEM in West Memphis, Arkansas. Although Burlison was part of a hillbilly band at the time, he would often join Willie Johnson to play blues at a local nightclub (now there's a good reason to build a time machine).
The Burnettes probably inherited a stray musical gene or two from their father, Dorsey Sr., who gave each son a Gene Autry guitar when they were barely out of diapers. "With an unerring foretaste of things to come, they ended up breaking the guitars over each others' heads," Escott pointed out, noting that the brothers were more interested in sports than music. But after they joined forces with Burlison in the early Fifties, the Burnettes became far more ambitious and determined to take their new act on the road.
Another thing that set the Trio apart from many of their peers: They recorded their earliest rock 'n roll singles in the relative luxury of a well-appointed studio (The Pythian Temple) in New York City, where they moved in 1956 as part of their grand plan for success. The band was signed to Coral Records after winning three separate competitions on The Original Amateur Hour, a nationally televised show hosted by Ted Mack. The irony here is that the Burnettes and Burlison were seasoned professionals by the time they landed on the show.
The top brass at Coral wasted no time pairing the Trio with the label's A&R man Bob Thiele. Unfortunately, his first instinct was to sap up their sound with a 32-piece orchestra: Shattered Dreams
Thankfully, Thiele regained his senses in time to send the orchestra packing – but he held back the otherwise restrained drummer, Eddie Grady, who gamely kicked it up a few notches on this fast-paced original. To protect his precious drum heads, he started beating the cases instead (although his touch sounds pretty light to me): Tear It Up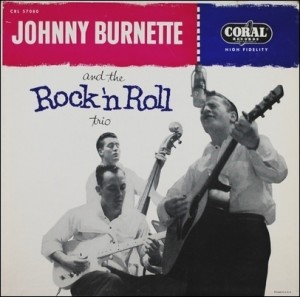 This set the stage for some of the most powerful and fearsome rockers ever committed to wax. After the first session at The Pythian Temple, the band moved to Nashville, where they recorded about 20 more songs at Owen Bradley's legendary "Quonset Hut" studio on 16th Street – a country music shrine that eventually gave birth to Music Row. Grady was replaced by Buddy Harmon Jr., and the band locked into a sound that can best be described as a hillbilly blues explosion (with a rock 'n roll beat). Please Don't Leave Me
As I mentioned in one of our first posts, white rockers often covered songs by their black R&B predecessors, but they rarely approached the raw energy of the original. One glaring exception to this rule is the Trio's cover of The Train Kept A Rollin' – a tune first recorded by the Tiny Bradshaw Orchestra in 1951. Bradshaw's version sounds positively tame next to the havoc wreaked by Burlison and the Burnettes five years later. Of course Aerosmith turned this song into a hit in '74 (and they lifted it from a version by Jimmy Page and The Yardbirds). But the primal fury of this take begs the question, who cares? The Train Kept A Rollin'
The Johnny Burnette Trio's classic Coral singles remain among my most prized musical possessions. With each listen, I struggle to pin down what I like best – Johnny's crazed yelps, Burlison's wild blues licks, Dorsey's steady-rollin' bass, Harmon's hard-drivin' rhythm… But it's really all about the glorious noise these guys made together – pure, unvarnished rock 'n roll. All By Myself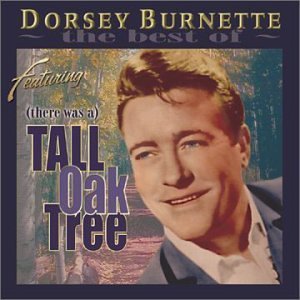 The Trio's hot streak didn't last long. Dorsey left in a huff when the label gave Johnny a higher profile, and Burlison split for Memphis where he started his own electrical contracting business – an enterprise that he ran through much of the next three decades. The Burnettes continued to record and perform – both individually and collectively – and they occasionally came up with a winner, like this 1960 Imperial single by Dorsey (with a blazing guitar solo by James Burton): Way in the Middle of the Night
Still, they never recaptured the magic of those sides from 1956 and 1957, which remain absent from that glass pyramid up in Cleveland but can be easily found in my tool shed (new home of RCR's Roots Music Hall of Fame).
Looks like this was filmed after Dorsey left the band (probably doctored-up footage from Alan Freed's movie Rock! Rock! Rock!). Obviously not a live performance clip, but the vintage look and feel make it a keeper.