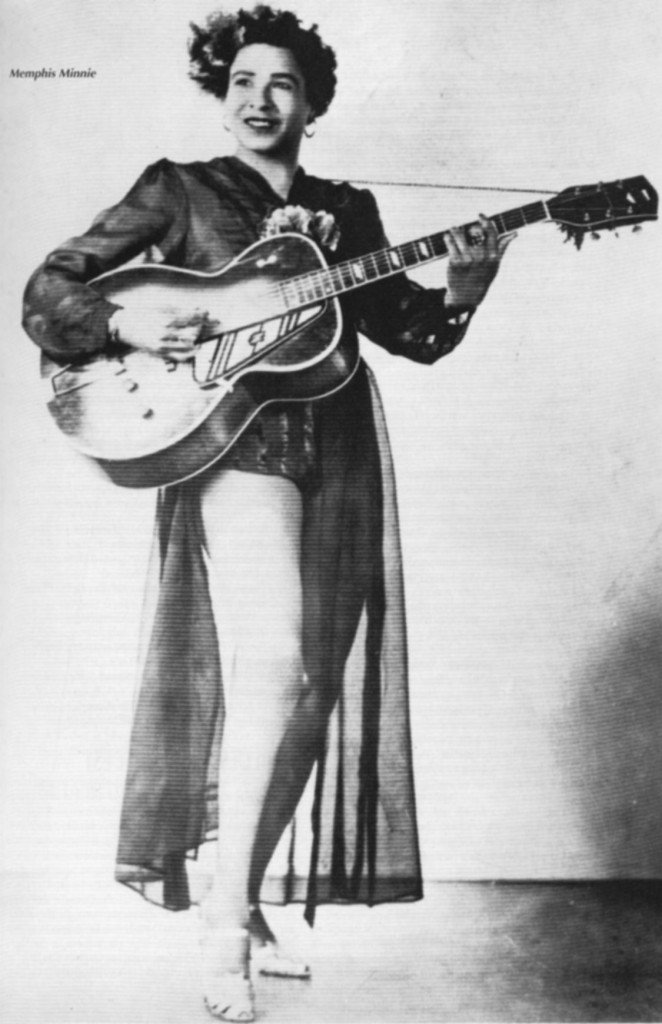 I need these blues to seduce me. Got no use for some tattooed numbskull playing endless guitar solos through 15 stomp boxes and a Marshall stack. Hand the mic to that sultry chanteuse by the bar… and tell the guys in the band to stay out of her way.
Blues purists might scoff at my list, since I've included the likes of Nina Simone and Bettye LaVette. I say, buy a url and start your own blog, where you can talk about Bessie Smith 'til the cows come home. I prefer to use the term "blues" as bait (amazingly, it's worked so far… besides, anyone who hates the term left our site a long time ago). So excuse me while I cast a wider net than the title would suggest. Hell, even Coltrane played the blues. He just threw in a few more notes than Muddy.
I'll start with a nod to the purists – Memphis Minnie. The former Lizzie Douglas was one of the most vital and gifted blues artists to emerge in the 1920s. Resourceful too… She sang, played a mean guitar, wrote songs, turned a few tricks on the side, and even traveled with the Ringling Brothers Circus. But more important, she inspired countless women who followed – including Bonnie Raitt, who paid for the headstone on her grave. Here's a tune written by Minnie's third husband, Ernest Lawlars (aka Little Son Joe). It's been covered by B.B. King, Big Mama Thornton and Sam Myers with Anson Funderburgh, but no one played it as well as Minnie, who seemed to anticipate the hard-driving sound of post-war Chicago blues when she recorded the original in 1941. Looking the World Over
Speaking of Big Mama, I thought I should include the next tune to demonstrate the difference between seduction… and destruction. Few women could pack as much power – maybe terror is the right word here – into their voice as Big Mama, who peeled paint with her original version of Hound Dog. As you can imagine, I've never been anywhere near the woman (she passed away in '84). But if I were in the club when she launched into this one, I would've run for cover. Patty Griffin did a great version of this tune on her 2010 release "Downtown Church"… but she didn't scare me. Big Mama scares me. I Smell a Rat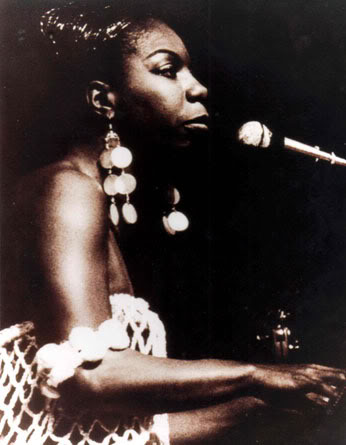 Let's move away from the more obvious choices and sample someone who's a little harder to pin down. Not sure I'd use the word "blues" to describe Nina Simone. Deep, earthy, soulful and, yes, seductive… all of those seem to work. She also sounded very comfortable playing an old blues standard like Trouble in Mind. Recorded live at the 1960 Newport Jazz Festival, this version shows off her considerable chops on piano – not to mention a swingin' little band. The very definition of cool, in a bluesy sort of way. Trouble in Mind
If you read this post, you know I've got a thing for Dinah Washington. Did she pour it on a little thick sometimes? Sure, and she rarely strayed from that heavy vibrato. But she was a diva back when the word meant something – as opposed to modern-day divas like Beyonce and Mariah who simply don't have the gravitas you hear even in Dinah's schmaltziest performances (I guess eight marriages can make you sound a little more world-weary when you're singing about matters of the heart). Barely a sign of schmaltz here as Dinah covers a Bessie Smith tune, recorded live at the 1958 Newport Jazz Festival with Wynton Kelly on piano, Paul West on bass and Max Roach on drums. Backwater Blues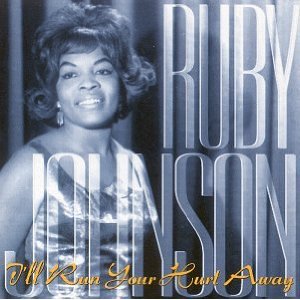 Let's go to Memphis, where Ruby Johnson recorded this slow burner with one of the world's most underrated blues bands, Booker T and the MGs (with the Memphis Horns). Just listen to their Sixties' recordings with Albert King and Johnnie Taylor and tell me these guys shouldn't play in the same sandbox as the big boys in Chicago. But I digress, because this post is all about the women. Compared to the MGs, Ruby is a complete unknown. And that's a shame, because she takes no prisoners on this next tune – one of the deepest soul-blues cuts in the Stax catalog. (Sorry, can't resist one more comment about the band – here's another lesson from guitarist Steve Cropper on how to make every note matter.) When My Love Comes Down
Over in the jump blues category, one of my favorites is the tough-as-nails "orchestra" led by pianist/arranger Buddy Johnson, who often featured sister Ella on vocals. Along with Louis Jordan, Buddy and Ella serve as perfect examples of everything that's good and right about R&B from the late '30s through the early '50s – right up to the dawn of rock 'n roll. Driving rhythms built for roadhouse dancefloors, churning horns, slashing blues guitar… and, of course, Ella, who adds this sexy, ethereal presence to all that testosterone. You'll Get Them Blues
Let's jump ahead… oh, about 60 years to Susan Tedeschi's 2005 release, "Hope & Desire." This Joe Henry-produced project has a lot going for it, including a very respectable version of The Rolling Stones' You Got the Silver (featuring Tedeschi's husband Derek Trucks on slide). But she saves all the nasty bits for the very end – a down and dirty version of a tune that the great R&B poet Percy Mayfield wrote for Ray Charles back in 1961. "You know the world is in an uproar, and the danger zone is everywhere." Henry's back-alley production helps drive home a message that seems even more relevant today. The Danger Zone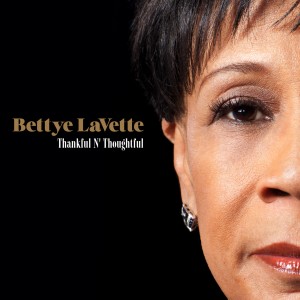 We'll close this out with a new release by R&B veteran Bettye LaVette. Several posts ago, I gushed about her stunning version of The Black Keys' I'm Not The One – easily the best cover I've heard of one of the band's songs. LaVette kicked off her music career as a teenager in the early Sixties when she joined the legendary stable of artists on the Atlantic label. She toured with Otis Redding, Ben E. King, Barbara Lynn and Clyde McPhatter and eventually recorded with the Swampers at Muscle Shoals Sound Studio (resulting in an album that her label inexplicably rejected). Although she had a disco hit in the Seventies and even performed on Broadway (Bubbling Brown Sugar), LaVette didn't really hit her stride until 2005, when she began her amazing comeback with "I've Got My Own Hell To Raise" – the first of four releases on the Anti label that showcase her weathered yet wondrous voice. Last year's "Thankful N' Thoughtful" might be a career best. Here she combines the sly phrasing of an uptown sophisticate with the deep soul of her former labelmates from the Sixties. Fair Enough
Here's another one of those wonderful American Folk Blues Festival videos – Big Mama Thornton with Buddy Guy on guitar… "And bow wow to you too!"
This one goes out to our friend Gary – the great gospel singer and guitar shredder Sister Rosetta Tharpe… Follow that, boys!