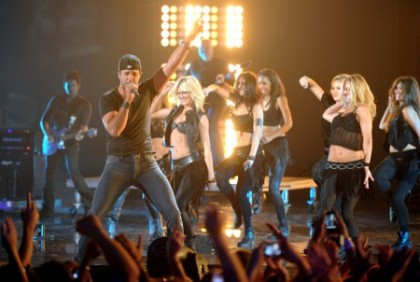 Lord help me in my time of need. I can't take one more soulless, mind-numbing bro country song.
I know, I promised to stop bitching about this garbage. But two things have kept me from moving on with my life: 1) Nashville continues to pump out this crap like sludge from a sewage plant (actually, sludge is used to make compost, a fairly useful byproduct… so that's not a very good analogy) and 2) one of the city's frustrated songwriters recently put together a six-song country hit mashup that serves as both a sad and brilliant commentary on Nashville's current creative vacuum.
I never thought I'd say this, but good for Taylor Swift, who recently decided to take her talents to New Yawk. I'd pick her second-rate dancepop any day of the week over whatever Jason Aldean is slingin'.
I know I'm pissing in the wind with this rant. Why would any fan of contemporary country spend more than two seconds listening to someone who doesn't own a gun, won't buy a truck, can't hang with NASCAR, seldom drinks shots and rarely votes Republican? As Aldean hisself tweeted to bro country critic Zac Brown, "trust me when I tell u that nobody gives a shit what u think."
The fact is, I grew up listening to every form of American roots music – country, blues, bluegrass, jazz, folk, rockabilly – and spent countless hours playing along to The Nitty Gritty Dirt Band's classic cross-generational album Will the Circle Be Unbroken. So I probably care a lot more about the current state of country music than any sane man should.
As Duke Ellington once pointed out, there's only two kinds of music – good and bad. How bad is bro country? Well, just listen to the mashup at the end of this post, then tell me what level of Dante's hell should be set aside for Florida Georgia Line, Shelton, Bryan, blah blah blah and their small army of songwriting hacks (I know, rich hacks… I should've finished the song I started writing in this piece).
Alright, got that out of my system (at least for another week)… So what's the antidote to "hick-hop"?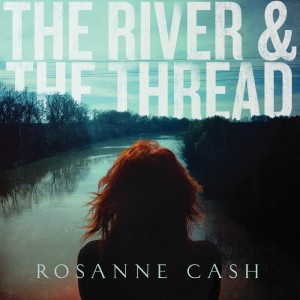 Let's start with my vote for best album of 2014 (sort of an empty honor when you consider the amount of new music I listen to vs. the staff at Pitchfork). Although Rosanne Cash has been on a creative roll since she released King's Record Shop in '87, The River and the Thread was her first collection of original songs in nearly eight years. It's certainly worth the wait – a career high point that digs deep into her Southern roots. But don't expect unvarnished country blues or rockabilly. Cash's husband, guitarist and producer John Leventhal, finds the perfect accents (snaky guitars, lush strings) for a vivid dreamscape of the south that weaves together Civil War battlefields, ghostly bridges, gospel on the radio and a midnight train to Memphis. What, no hot chicks and cold beer? A Feather's Not a Bird
This tune off of Lucinda Williams' latest, Down Where the Spirit Meets the Bone, showed up in Tuesday night's episode of Justified (my favorite TV show about pill-poppin' hillbilly gangstas). The album's a groove-heavy, guitar-driven affair, so of course I'm on it like stink on doodie. Actually, Lucinda might've done herself a bit of a disservice, because the songs and her voice – more weathered than the one you might remember from Car Wheels on a Gravel Road – are upstaged by the string-bending fireworks from Doug Pettibone, Tony Joe White and several other guests. But the weakest tunes on this sprawling, 2-CD set are instant classics compared to anything coming out of the Nashville hit mill. Protection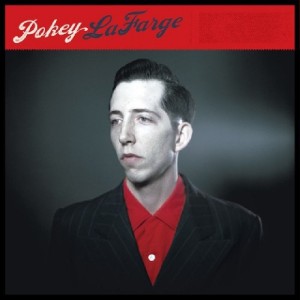 All you hard-core honky tonkers out there should appreciate Pokey LaFarge (although he's more far-ranging than that label would suggest). Pokey's website describes him as a musician, songwriter, bandleader, entertainer, innovator and preservationist. And the songs on his self-titled, 2013 release on Jack White's Third Man Records move seamlessly from country blues to early jazz to gypsy-flavored swing. If you're looking for a more inclusive take on Americana (a conveniently named genre that doesn't always live up to its promise), then Pokey's your guy. "It's not retro music," he explains. "It's American music that never died." The Devil Ain't Lazy
To be fair, sometimes a narrow focus can yield some pretty cool results. Case in point: the 2013 release Foreverly, by Billie Joe Armstrong and Norah Jones. This looks really bad on paper – Green Day punk-rocker joins folk-jazz chanteuse to recreate a 1958 Everly Brothers album, Songs Our Daddy Taught Us, that only exists today in the deepest record collections. Maybe that's why this one came and went without much fanfare. But I love how it sounds – sparse, soulful, amazingly true to the spirit of the originals – and the harmonies are stunning. Who cares if it's unabashedly retro? I dare you to find a better soundtrack for your Sunday morning cup o' joe. Long Time Gone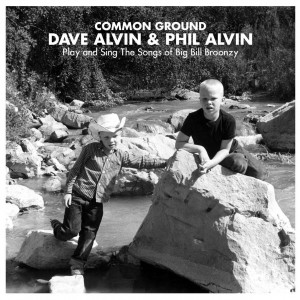 Here's another worthy tribute album – Common Ground: Dave Alvin & Phil Alvin Play & Sing the Songs of Big Bill Broonzy. I was a big fan of the Alvin brothers' previous project, The Blasters – one of a handful of rootsy, hard-rockin' bands that kept me sane during those godawful Eighties. But apparently there was a lot of bad blood between Dave and Phil, enough to prevent them from appearing in a studio together for nearly 30 years. Thankfully, they lowered their fists long enough to record this gem in 2014. Anchored by another ex-Blaster, pianist Gene Taylor, the band recasts several of Big Bill's originals as West Coast swingers. All of it sounds fresh and welcome to my ears. I Feel So Good
As long as we're in a blues groove… My daughter Allie spent a few months in Nashville, where she came across this steamy A-side to a digital single by Luella and the Sun. Here's what I've been able to find out about the band online: formed in Nashville in 2011… fronted by Melissa "Luella" Mathes, who NPR's Ann Powers described as "a ferocious, feminine voice" who "performs with zero fear"… played Austin City Limits Music Festival in 2013… and that's about it. It seems that this song and its flip, We Got to Meet Death One Day, are the only available recordings of the band. Sounds like we need to hear a lot more of Luella (and less of Luke Bryan). Fly So Free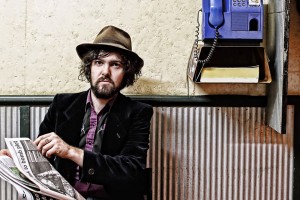 I'll also credit Allie for unearthing this one (she's just been hired as RCR's New Music Consultant). Jordie Lane arrived on this planet with a distinct handicap – he was born to a comedian and a clown. But the Aussie pulled from childhood memories of his parents' traveling circus to become a first-rate songwriter and storyteller. Then there's that voice – an effortlessly soulful instrument that's put to great use on Lane's five-song EP, Not Built to Last. It was recorded in Nashville with some of the city's finest rejects, and I mean that in the best possible sense. Here's a taste: I Think I Always Thought
Marty Stuart has been fighting the good fight in Nashville for years with a string of solid, "back to the roots" country albums featuring his wonderfully named band, the Fabulous Superlatives (with RCR friend Kenny Vaughan on guitar). And, like Rosanne, he might've hit his high water mark in 2014. Like the title suggests, Saturday Night/Sunday Morning celebrates the profane and sacred. Disc one blasts through the honky tonks with some revved-up originals as well as spirited takes on Hank and George… and not a single song about Bubbas partying on boats. Then disc two settles down with some serious gospel – as heartfelt as any I've heard recently. My favorite cut brings Marty together with Mavis Staples (and he plays the late Pops' guitar for good measure). Take me to a church where I can hear this. Uncloudy Day
I'll close with some overlooked talent from the Rubber City. Although she was raised near Cleveland, Rebekah Jean sounds like she crawled right out of the hills of West Virginia. Some of that hard-country soul was forged in her family's southern Pentecostal church; the rest probably came from her mother and cousins, who actually do have strong roots in the Mountain State. I've heard her perform solo and with a full band… She sounded great in both settings, but even Jason Aldean's producer couldn't screw up this voice. R.J. delivered a strong debut in 2012, Love May Be Real but it Ain't Enough, but get ready for even better things to come. In the meantime, this will do just fine: Big Green Shelter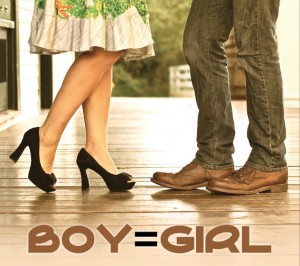 Boy=Girl is Paul Kovac, formerly with NE Ohio faves Hillbilly Idol; and Jen Maurer, who is making her third appearance on this here site. Their tight harmonies and trad-country arrangements should satisfy fans of Gillian Welch and David Rawlings. But they also throw us a few curves on their self-titled debut, including the a cappella (+ drums) original by Maurer, Little Baby Rocks & Cries, and a pretty cool take on Amy Winehouse's Back to Black. I still haven't found a good definition of Americana, but if it includes this stuff (and excludes all those dipsticks under the bro-country banner), then I'm all-in. Blue Modal #2
As promised: Exhibit A in the case of Hick-Hop vs. Stuff I Can Listen To With Adults Who Aren't Cognitively Impaired…
I can't leave you on that note… Here's a Tiny Desk Concert with Pokey and band:
If you're looking for a real time-suck, search the Marty Stuart Show on YouTube. Many great clips of Marty and his hot-shit band playing with a number of special guests from Nashville's pre-Bubba years. But here's the real reason to tune in – just Marty and band (and Kenny tearing it up on guitar):